Royal Salute Cup - Maharaja of Jodhpur Toasts Diamond Jubilee Year as the 61st Cavalry Team Claim Victory- 3rd January, 2013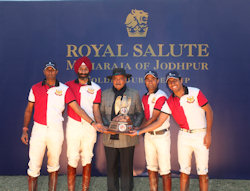 The Royal Salute Maharaja of Jodhpur Golden Jubilee Cup came to an exciting close this New Year as the 61st Cavalry team claimed victory after an exciting week of 10-goal polo. From 26 – 31 December, patrons and players alike enjoyed the annual tournament, raising a glass to commemorate His Highness Gajsingh II, The Maharaja of Jodhpur's 60 year reign in the Blue City.
Festivities included the opulent Diamond Jubilee Ball at Umaid Bhawan Palace, where Royal Salute honoured the Maharaja's celebratory year with a one-off Scotch whisky crafted especially by the Master Blender and presented in a personally engraved crystal decanter. One of the rarest and most bespoke blends ever created by Royal Salute, the expression includes whiskies taken from each decade of the Maharaja's reign. This incredibly unique blend includes many whiskies from distilleries which are no longer in production – adding even further to its rarity. There is also a rich mix of top quality casks, butts, hogsheads and barrels.
His Highness, who was touched by the gesture, enjoys nothing more than sharing his passion and enthusiasm for the sport with the guests of Umaid Bhawan Palace who over the years have included, Brad Pitt, Angelina Jolie, Madonna and most recently Kate Moss, Naomi Campbell and Diana Ross for the 50th birthday of Russian billionaire Vladimir Doronin.
His Highness Gajsingh II, The Maharaja of Jodhpur commented: "I absolutely relish hosting the Royal Salute Maharaja of Jodhpur Golden Jubilee Cup and this year in particular, being a significant year for me and my family, the celebrations have been the perfect way to mark a momentous 60 years."
Guests celebrated the close of the Royal Salute Cup with a spectacular procession led by the Maharaja, through the imposing Mehrangarh Fort, celebrating the New Year and concluding festivities.
Neil Macdonald, Global Brand Director for Royal Salute, commented: "We are delighted to again be sponsoring the Royal Salute Maharaja of Jodhpur Golden Jubilee Cup for a fourth consecutive time. Having celebrated a Diamond Jubilee earlier in the year, we are thrilled to be toasting the Diamond Jubilee year with His Highness Gajsingh II, The Maharaja of Jodhpur. We hope 2013 will be a prosperous year for all and really look forward to the next event."
Royal Salute's commitment to international polo is ever growing, with sponsorships of some of the world's most prestigious polo events across the Americas, Asia Pacific, Europe and the Middle East. Royal Salute World Polo programme continues with the Royal Salute Nation's Cup in Dubai on 23-26 January 2013.
<< Back to all the latest whisky news brought to you by Planet Whiskies
Get Newsletter
Subscribe to our newsletter to get latest news, popular news and exclusive updates.