Irish Distillers Release The 2013 Edition Of Midleton Very Rare - 19th August, 2013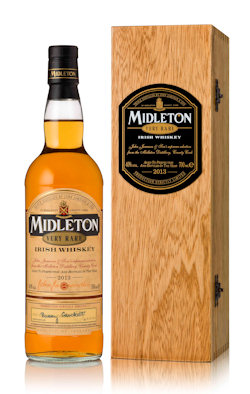 Irish Distillers Pernod Ricard, makers of Jameson, the world's No.1 Irish whiskey, has unveiled the latest release of its prestigious blended whiskey, Midleton Very Rare.
Regarded as one of the ultimate expressions of Irish Whiskey, Midleton Very Rare is made from hand-selected whiskeys chosen by the Master Distiller from the renowned Midleton Distillery. Blended from only the finest single pot still and grain distillates of the year, the whiskey is matured in a select few, lightly charred, ex-Bourbon American oak casks, contributing to its complex and elegant taste profile, beloved of whiskey connoisseurs across the world.
Midleton Very Rare benefits from the distillery's trademark triple distillation and a typical ageing time of up to 20 years and features the signature of the Master Distiller on the label, as a guarantee of the unique quality of this rare whiskey. The 2013 edition will be the final expression to feature the signature of Barry Crockett, the former Master Distiller who first developed this prestige whiskey ahead of its launch in 1984 and retired earlier this year after 47 years at the distillery
Brendan Buckley, Global Innovation and Category Development Director at Irish Distillers, says: "Midleton Very Rare is rightfully regarded as one of the ultimate expressions of the Irish whiskey category and each vintage is cherished by collectors and whiskey connoisseurs. It is a unique whiskey that demonstrates both the outstanding quality of Irish whiskey at the high end of the category and the immense skill of our Master Distiller, so with Midleton Very Rare and the other Prestige whiskeys in our portfolio we're aiming to show the world that the finest Irish Whiskeys offer exceptional quality that rival the best whiskies from across the world."
Barry Crockett, former Master Distiller of the Midleton Distillery, says: "Due to the hand crafted nature of Midleton Very Rare, there are slight variances in taste from year to year. The 2013 edition is characterised by a complex yet elegant taste of soft ripe fruits, leading to a generous single pot still spice and a long, balanced finish. The depth and complexity of the expression means it appeals to both collectors and connoisseurs, with the nuances of each annual release making them a must-try spirit for all whiskey drinkers."
<< Back to all the latest whisky news brought to you by Planet Whiskies