Highland Park launches third bottling from the Orcadian Vintage Series
Published Date: 10th August 2010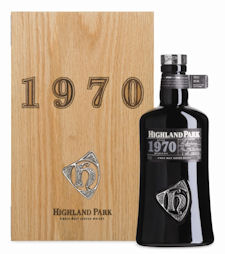 Highland Park, the creators of the Best Spirit in the World*, have launched the third bottling from the distillery's Orcadian Vintage Series - a 1970 Vintage.
First launched in autumn 2009, The Orcadian Vintage Series draws on the distillery's connections with Orkney's rich cultural heritage and the islands' intriguing myths and legends, which the distillery has come to be a part of since it was established in 1798.
Matthew Turner, Global Controller of Highland Park said: "Following the success of the 1968 and 1964 Vintages, up to ten exclusive limited editions will be released over the next four years. The 1970 Vintage demonstrates the skilful hand-selection process carried out by our Whisky Maker Max McFarlane, to find casks from a specific year that, based on their maturity and exceptional character, will deliver consistency and Highland Park's inimitable balance."
Specifically chosen by Max McFarlane, the whisky has been created from seven casks which were laid down with new make spirit in 1970. All were refill casks comprising both butts and hogsheads, producing a total of just 1,800 bottles at natural cask strength of 48% abv.
According to Max McFarlane: "The refill casks used to create this Vintage have allowed the quality and delicate fragrance of the original new make spirit to shine through without being dominated by the wood notes.
"The bottling bursts with aromas of caramelised pineapple and lemon peel as well as Highland Park's trademark balance of aromatic peat and heather honey sweetness. At natural strength it has an intriguing mix of vanilla and coriander seeds but a drop of water brings hidden peat smoke and cedar wood to the top. This single malt has a satisfyingly long sweet and spicy flavour that hangs on the palate."
The liquid is bottled in a unique jet back glass adorned with a specially crafted silver embossed Pictish knot which circles the necker and banding. The distinctive pewter 'H' amulette completes the design.
The 1970 Vintage is presented in a naturally coloured oak wooden box finished to high specification cabinet quality. The box illustration celebrates Orkney's Scandinavian heritage, inspired specifically by a carving in the Ringerike style on an 11th century tomb. The illustration is a combat motif featuring a dragon-like creature which is shown seizing a lesser beast.
The Highland Park 1970 Vintage is available in the UK from specialist independent whisky retailers, RRP £2,250.
Below are the other two Highland Park Orcadian Vintages available to buy by clicking the buy now link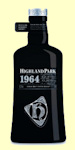 Highland Park 1964 - Orcadian Vintage - 70cl - 42,2%
Single Island Malt Scotch Whisky for the Highland Park Distillery, Kirkwall, Orkney. This malt was bottled in 2009 from two refill hogsheads and is part of the Orcadian Vintage series

Buy Highland Park 1964 - Orcaian Vintage £3,650.00 - Buy Now
World-wide delivery available - Price Subject to Change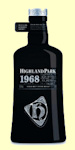 Highland Park 1968 - Orcadian Vintage - 70cl - 42,2%
Single Island Malt Scotch Whisky for the Highland Park Distillery, Kirkwall, Orkney. Part of the Orcadian Vintage series.

Buy Highland Park 1964 - Orcaian Vintage £2,100.00 - Buy Now
World-wide delivery available - Price Subject to Change
<< View the whole range of Highland Park Single Malts
<< Back to all the latest whisky news brought to you by Planet Whiskies