The Famous Grouse Master Blender retires after 40 years in industry
Published Date: 15th July 2009
The Famous Grouse recipe to be passed on to the next generation.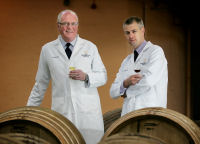 15.07.09 -John Ramsay, Master Blender for The Edrington Group has announced that he will be retiring from his position on 31 July 2009. Following a two and half year handover, Gordon Motion, will take over as the company's new Master Blender.
The position of Master Blender is unquestionably one of the most important and complex roles held in the whisky industry, highlighted by the fact that only six such positions exist across all of the major Scottish distillers.
Master blenders are most well-known for their unique skill in the fine art of nosing whisky. In any one day John can nose up to 600 samples to check their quality and consistency. This requires a very acute sense of smell, and means that the Master Blender has to make some personal sacrifices – namely not wearing aftershave or eating garlic as they impair the senses and taking every measure possible not to get a cold!
Since joining The Edrington Group in 1991, John has been responsible for overseeing the quality of the Group's whisky portfolio, including The Glenrothes, two of the world's most renowned single malts: The Macallan and Highland Park and Scotland's No. 1 whisky for nearly 30 years, The Famous Grouse.
The Master Blender is one of the few people allowed to share in the secret of the unique blend of whiskies that combine to make The Famous Grouse – Scotland's favourite whisky, and this guarded recipe will now be passed on to Gordon Motion as he assumes the role.
The handover process to the new Master Blender is therefore lengthy, and for the past two and a half years Gordon Motion has been the Master Blender Designate, working alongside John Ramsay to learn as much as possible about the job.
This involves managing the laboratory and sample rooms as well as stock management and cask selection and overseeing the staggering 8,735 quality checks from cask to glass that go into ensuring the blend is consistent and of the highest quality. Give that more than 30 million bottles of The Famous Grouse are sold every year, this is no mean feat.
John Ramsay commented: "Looking back there are a number of highlights that really stand out, from creating Highland Park 18, 25 and most recently 40 year old expressions and moving The Glenrothes whisky to a vintage.
"In particular I'm most proud of receiving the International Spirits Challenge trophy award in 2007 for The Famous Grouse 30 year old blended malt. Beating off competition from over 700 spirits, both single and blended malts, to be named "best overall malt whisky" by my fellow peers, was a real honour.
"I've had an immensely enjoyable career with The Edrington Group which has taken me all around the world and I would like to extend thanks to all of my colleagues who have been such a fantastic support."
Commenting on how it feels to be the new Master Blender Gordon Motion, said: "It's an incredible privilege to be the successor to John Ramsay, the doyen of Blenders. John has been an inspiring mentor to me over the last ten years working as his assistant and particularly over the last two and a half years as I've stepped into the Master Blender role. I am looking forward to continuing the tradition that has gone on for over a century and want to ensure The Famous Grouse continues to be enjoyed and respected as one of the finest whiskies in the world."
John Ramsay added: "I have absolute confidence in Gordon, he has the natural ability combined with the passion and ambition to make a very successful Master Blender and I wish him all the best in his new role."
<< Back to all the latest whisky news brought to you by Planet Whiskies