Drambuie: The royal Legacy of 1745™ Takes Gold at Cannes
Published Date: 22nd October 200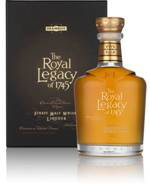 22 October 2009, Edinburgh: DRAMBUIE® is celebrating the highly successful launch of the world's finest cask infused malt whisky liqueur, The Royal Legacy of 1745™, receiving a Gold Medal in the prestigious Drinks International Awards at TFWA Cannes.
Revealed for the first time at the world's largest travel retail exhibition, The Royal Legacy of 1745 was awarded a Gold Medal for Best Drinks Launch at TFWA Cannes 2009, a category which included strong competition from the likes of Remy Cointreau's Louis XIII Rare Cask and Nicolas Feuillatte's Cuvee 225 Rose Champagne.
Celebrating the centenary of the first commercial bottling of Drambuie in Edinburgh in 1909, The Royal Legacy of 1745 is a sublime interpretation of the original royal spirit enjoyed by Bonnie Prince Charlie in 1745.
At its heart remains the Prince's legacy – his secret elixir of exotic herbs and spices sourced from around the globe and unchanged for 260 years. Today, Drambuie's whisky blenders have the luxury of hand picking a bespoke selection of Scotland's finest rare aged malts to complement the elixir's distinctive flavour notes.
Miranda Rennie, Marketing Director for Drambuie Liqueur Co. commented: "We are incredibly pleased to have the quality of The Royal Legacy of 1745 recognised in the Drinks International Awards. The endorsement from one of the biggest spirits publications adds great value to the launch communications to both trade and consumers.
"TFWA Cannes has been immensely busy and productive for us and has proved the ideal platform, not only to launch the super premium Royal Legacy of 1745, but also showcase the new innovative design and branding of the original Drambuie bottle."
The Drambuie Liqueur Co. Ltd is an independent, family owned business that has been producing the world-renowned Drambuie Liqueur since 1909. Drambuie is regarded as one of the Top 5 Liqueurs ever produced (Paul Pacult, Spirit's Journal, 2008) and remains a Top 50 global spirit in volume (IWSR, 2008). The launch of The Royal Legacy of 1745 is a major step in Drambuie's marketing strategy for GTR, and an important part of its overall rejuvenation strategy to reposition the brand to appeal to new and younger consumers.
The Royal Legacy of 1745™ is available exclusively through select international travel retail outlets (70cl & 75cl, 46% ABV, TR RSP of £125/€159/$229).
One of the most established and prestigious awards in the travel retail sector, the Drinks International Awards recognises the best launches, marketing, packaging and retailers in the world of travel retail. A full list of winners for the 2009 Drinks International Awards can be found on the website www.drinksint.com
For more information visit www.drambuie.com
Drambuie encourages responsible drinking
www.drinkaware.co.uk ~~ www.scotch-whisky.org.uk
<< Back to all the latest new brought to you by Planet Whiskies