Benriach and Glendronach release new batches of single cask bottlings - 24th August, 2011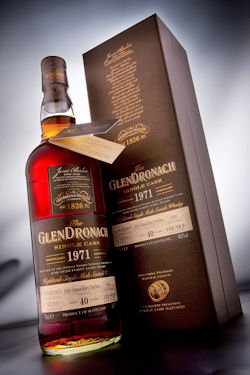 AS SUMMER slips away, the thought of long autumn and winter nights becomes slightly more bearable thanks to BenRiach and GlenDronach issuing new batches of limited release single cask bottlings.

As with previous batches, each vintage is hand-numbered and bottled at cask strength, at natural colour and non-chill-filtered.

The new BenRiach batch boasts twelve special bottlings ranging from 18 to 40 year-old – including a monster 1976 Classic Speyside at 57.8% proof which on the nose offers "a wave of stewed plums, damsons and sweet sultanas interwoven with fine leather and well-toasted oak"!

Meanwhile, over at GlenDronach, the six bottlings range from 17 to 40 year-old, and they include a superlative 1994 from an Oloroso Butt at 60.1% proof which on the palate gives "liquorice, aniseed and toasted hazelnuts developing around a foundation of chocolate orange sauce and rich old Oloroso sherry".

Sales Director Alistair Walker said: "BenRiach's uniqueness is found in the diversity of our whiskies. Our warehouses boast a stunning array of ages and styles, and when we select the casks to be bottled as single casks, not only are we looking for excellent quality but also to offer the consumers some variety. Batch 8 alone covers the Classic Speyside style, various finishes (including less traditional finishes such as Sauternes, Barolo and virgin American oak), and of course a couple of peated, smoky BenRiachs."

The twelve BenRiach bottlings are:

1971, July 2011, 40YO, cask 1947, Hogshead, Classic Speyside
1972, July 2011, 39YO, cask 802, Hogshead, Classic Speyside
1976, July 2011, 34YO, cask 6942, Butt, Classic Speyside
1977, July 2011, 34YO, cask 1034, Pedro Ximinez Hogshead, PX Sherry Finish
1978, July 2011, 32YO, cask 4387, Virgin Oak Hogshead, Virgin American Oak Finish
1979, July 2011, 31YO, cask 11195, Bourbon Barrel, Peated
1980, July 2011, 31YO, cask 2531, Virgin Oak Barrel, Virgin American Oak Finish
1984, July 2011, 26YO, cask 7193, Virgin Oak Hogshead, Peated / Virgin American Oak Finish
1989, July 2011, 22YO, cask 4813, Sauternes Hogshead, Sauternes Finish
1989, July 2011, 22YO, cask 5620, Virgin Oak Hogshead, Virgin American Oak Finish
1992, July 2011, 19YO, cask 972, Tawny Port Hogshead, Tawny Port Finish
1993, July 2011, 18YO, cask 7415, Barolo Hogshead, Barolo Finish


The GlenDronach Distillery is famous for producing richly sherried single malts. The range of fruit flavours in this latest bottling is exceptional – from brambles and raspberries, citrus notes of mandarins and clementines to nuts, chocolate and dried Mediterranean fruits such as figs, dates and sweet raisins.

Alistair picked out the 1972 which exemplifies the classic GlenDronach taste.

"From an Oloroso butt, it's a big and full-bodied 39YO. As you would expect from such a mature malt, it's incredibly concentrated and packed with sweet, fruity flavours. Delicious, and the perfect antidote to cold winter nights."

The six GlenDronach bottlings are:

1971, July 2011, 40YO, cask 1436, Pedro Ximinez Sherry Puncheon
1972, July 2011, 39YO, cask 712, Oloroso Sherry Butt
1989, July 2011, 21YO, cask 2917, Pedro Ximinez Sherry Puncheon
1990, July 2011, 20YO, cask 1032, Pedro Ximinez Sherry Puncheon
1992, July 2011, 19YO, cask 161, Oloroso Sherry Butt
1994, July 2011, 17YO, cask 97, Oloroso Sherry Butt

BenRiach, and more recently GlenDronach, have become known for their annual 'batch release' of single cask whiskies, and these bottlings have gathered quite a following around the world. Alistair commented:

"We have a cult following for our single casks, and these releases sell out very quickly. It's an important part of what we do, and being a relatively small independent enables us to engage with these small production runs."
The eighteen releases follow hard on the heels of the company's success at last month's IWSC awards. The BenRiach 12 year-old sherry-matured won the Single Malt Scotch whisky (15 years and under) Trophy, the Single Malt Scotch whisky (Special Edition) Trophy and the Gold Medal / Best in Class (category - Scotch whisky, Single Malt, Speyside, Cask Finish, 12 – 13YO)

In total, BenRiach collected an impressive nine IWSC awards this year.
Read more about BenRiach at www.benriachdistillery.co.uk
See all the Single Malts Whiskies from BenRiach Distilery
Read more about the history and see contact details for BenRiach distillery
<< Back to all the latest whisky news brought to you by Planet Whiskies
Get Newsletter
Subscribe to our newsletter to get latest news, popular news and exclusive updates.