Ardmore Latest News - Ardmore Traditional Cask - The Peat-lover's Choice - 13th October, 2010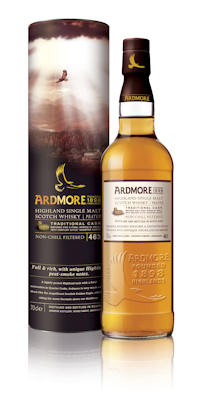 Award winning Ardmore™ Traditional Cask is a new generation Highland single malt Scotch whisky that is double-matured to create an extraordinary malt with a well-rounded, smooth flavour and a unique peat-smoke richness, softened by a delicate sweetness.
First aged in ex-bourbon barrels, Ardmore™ Traditional Cask receives its second maturation in handmade Quarter Casks created especially for the distillery, similar to those used in the 19th century. Although labour- and time-intensive, the process of Quarter Cask maturation allows much greater contact between the developing spirit and the oak of the cask. The spirit mellows as it matures, taking on the colour, taste and aroma from the casks.
Ardmore™ is the only malt whisky from the Highland Scotch whisky region to be fully peated, using malted barley that has been dried over peat fires to give a deep smoky aroma to the finished whisky. Traditionally associated with malts from Islay and the west coast of Scotland, fully peated whiskies can offer iodine, seaweed and other pungent aromas. However, Mainland Scottish peat creates different flavours to that found on Islay, making Ardmore™ softer and more complex, with a unique peat-smoke richness.
Reflecting traditional methods of malt production, the spirit does not use an age designation. Ardmore™ Traditional Cask ages in cask and is bottled when it reaches the optimum maturity, which is down to the judgement and experience of the Master Blender. To achieve the best possible representation of the distillery and preserve the natural flavours, Ardmore™ Traditional Cask is non-chill filtered and bottled at 46% ABV.
ARDMORE™ TRADITIONAL CASK



TASTING NOTES:

Colour - Burnished gold.

Nose - At bottle strength, the two styles of maturation casks compliment each other, producing a full-bodied smooth aroma. The maturity that shows through comes from the American barrels and the spicy creamy nose from the old style smaller casks.

A touch of water allows the full complexity of the Highland Peated Malt to appear. The rich softness linked with the smooth, slightly dry aroma is combined with just enough earthy peat smoke so not to be overpowering.

Body - Full and rich, with a subtle Gentleness.

Palate - At bottle strength the full rich flavours burst and fill the mouth a creamy peat tang and a touch of vanilla's soft gentleness. If a touch of water is added then the flavors increase with the addition of a sweet ripe fruit start followed but the tang of peat.

Finish - Full, succulent and lingering.

Stockist details & Pricing - Ardmore™ Traditional Cask has an RRP of £28.79 and is available in selected Tesco, Asda, Sainsbury's, Morrisons, Co-Op, and specialist whisky stores.

Click to buy now Ardmore Traditional Cask
Read more about Ardmore on the Gordon and Mcphil website at www.gordonandmacphail.com
<< Back to all the latest whisky news brought to you by Planet Whiskies