Springbank Charity Auction: Campbeltown Grammar School's fundraising trip to Gambia
Published Date: 20th August 2013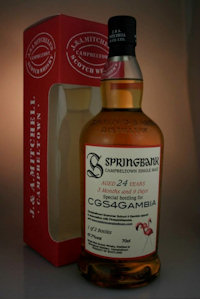 Campbeltown Grammar School are currently in the process of raising funds for a volunteering trip to Gambia in February 2014. The school are working closely with Argyll based charity Firstaid4Gambia to help in a community school in Kalagi. The fundraising group have been kept very busy by attending a range of local events to help raise funds as well as a number of teachers taking part in the Mull of Kintyre 10K run in May and then doing the 'Three peaks' challenge earlier this month. Another of their fundraising pushes is to 'flock' unsuspecting gardens with big, bright flamingos which can be bought as a gift for birthdays or other occasions for £20 a go. It is proving to be a great idea and has been extremely well received by everyone, especially those with kids!
Springbank are also doing their bit to help raise funds for the worthy cause. We have drawn 2 bottles of the oldest whisky we have in the warehouse (24 years, 3 months and 9 day year old Springbank). 1 of the bottles is being auctioned off and the other is down in the Ardshiel Hotel in Campbeltown where drams are available at £25.00 a pop. All proceeds from both are going to the Grammar School.
The auction started on Friday 12th of July and ends at 5pm BST on Monday 26th August 2013. To bid, e-mail auction@springbankwhisky.com or phone 01586 55 2009 and give your offer along with your name, address and contact telephone number.
The highest bid currently stands at an outstanding £2,150 but with one more week to go, anything can happen!
<< Back to all the latest whisky news brought to you by Planet Whiskies