Laphroaig's Starring Role At The Queen's Coronation
Published Date: 7th August, 2013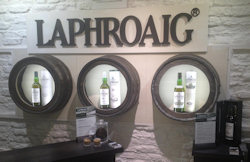 WORLD'S NO. 1 ISLAY MALT WHISKY TOASTS THE QUEEN'S CORONATION
Laphroaig® Single Malt Scotch Whisky, distributed by Maxxium UK, has reported strong sampling figures from the Coronation Festival, staged in the Gardens of Buckingham Palace to mark the 60th anniversary of the Queen's Coronation.
The four-day event saw 60,000 visitors tour the Gardens of Buckingham Palace, as they enjoyed a unique showcase of British products, including the Royal Warrant holder and No.1 selling Islay single malt whisky, Laphroaig.
Providing over 14,000 samples, the Laphroaig stand offered visitors the chance to taste the brands signature 10 Year Old and vibrant Quarter Cask as well as purchase a bottle from Laphraoig's full portfolio.
Laphroaig Distillery Manager, John Campbell also attended the Festival and treated an audience of 150 consumers to a nosing and tasting of Laphroaig 10 Year Old, Quarter Cask and 18 Year Old within the Food and Drink theatre.
Laphroaig became a Royal Warrant holder in 1994 when Prince Charles visited the distillery to personally bestow his Royal Coat of Arms on Laphroaig. The brand remains the only single malt whisky to have received this honour and today every bottle of Laphroaig proudly bears his coat of arms.
Peter Sandstrom, Marketing Director at Maxxium UK, commented: "We are very proud of Laphroaig's Royal Warrant and the Queen's Coronation marked the perfect occasion and platform to showcase Laphroaig's portfolio, which allows us to grow the brands popularity and introduce new consumers to whisky. The numbers we have reached over the course of the four days are extremely encouraging and representative of the growth of Laphroaig fans around the world.
<< See the Laphroaig Single Malt Range
<< Back to all the latest whisky news brought to you by Planet Whiskies