Latest Whisky News - New Look Label 5 Classic Black - 3rd September, 2013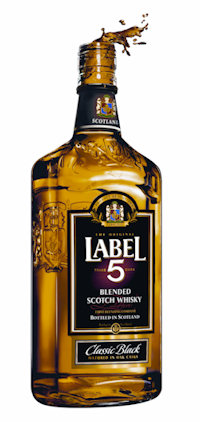 Label 5 have kindly send me two bottles for tasting in the new look Classic Black bottle. Below is more details about this new design launch and im sure it will be a massive hit worldwide.
LABEL 5, the N°9 Scotch Whisky in the world has unveiled a new and modern look bottle for its Classic Black expression. A brand new look designed to maintain the brand's relevance in today's Scotch market and to ensure a maximum visibility on shelf.
The new packaging will be available worldwide from next September this year and will be rolled out on all the different sizes of LABEL 5 Classic Black (from 5cl to 200cl bottles). The new packaging marries both the traditional LABEL 5's attributes such as its colour code (Black, White and gold) – elegance, authenticity and modernity to create a look with a great stand out.
LABEL 5 stays true to its identity and heritage while becoming more dynamic and more contemporary. Aurélie PRAT, brand manager says "We are confident that this new look will give LABEL 5 a more eye-catching design on shelf and will attract both new and our loyal LABEL 5 drinkers."
Please enjoy LABEL 5 responsibly.
More details about LABEL 5
Elaborated in Scotland, LABEL 5 is renowned worldwide for its high quality and appreciated for its smooth and contemporary brand image. LABEL 5, ranks 9th on the worldwide Scotch Whisky market and is sold in more than 100 countries.
Tasting notes :
LABEL 5 Classic Black is a great smooth, sweet and delicately fruity Blended Scotch Whisky, with a generous ration of Speyside malt.
Appearance: Bright and golden colour
Nose: Smoky and slightly peated with delicate notes of fruits and pastries
Palate: A delightful blend, well-balanced with a slight smoky sensation emerging
Finish: Long and smooth with a hint of wood

Awards :
Gold Medal – San Francisco World Spirits Competition, UK 2013
Silver Medal – International Spirits Challenge, UK 2013
Silver Medal – The International Wine & Spirit Competition, UK 2013
Gold Medal - The SIP Awards, USA 2012
Silver Medal – San Francisco World Spirits Competition, USA 2012
Silver Medal - The International Wine & Spirit Competition, UK 2012
Best Buy – The Chicago Beverage Tasting Institute, USA 2012
<< Back to all the latest whisky news brought to you by Planet Whiskies