Highland Park Distillery Unveils New Global Brand Advovate Daryl Haldane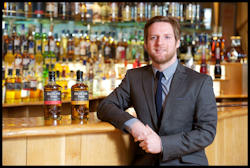 Highland Park, the best spirit in the world, has made a significant new addition to its central brand team with the appointment of Daryl Haldane to the newly created role of Global Brand Advocate.
Daryl joins the team from Diageo's Reserve Brands where he worked as a brand ambassador for over four years, specifically focused on cross category training around the UK. This covered a variety of functions from brand education to product development predominantly in the UK on-trade.
Commenting on his new role, Daryl said, "This is a very exciting time for me, having worked on all spirit categories before, whisky is where I always wanted to be. There are few brands who can boast the heritage, credentials and accolades that Highland Park achieves so consistently. I am very proud to become a part of that"
This new role reflects the ambition and focus of Highland Park in its drive to build brand awareness and distribution across the globe and also gives greater weight to the commitment to brand education in key markets.
Gerry Tosh, Global Marketing Manager, Highland Park, "Daryl is a great addition to the team, bringing a strong mix of marketing and educational experience to this new, pivotal role. The creation of this position and Daryl's appointment mark a step forward for us in terms of driving forward our longer terms plans. It's definitely going to be an exciting few years for us and what a great way to start!"
<< View the whole range of Highland Park Single Malts
<< Back to all the latest whisky news brought to you by Planet Whiskies