Whisky News - The Glenrothes Unveils Rare Cask Collection - 22nd October, 2012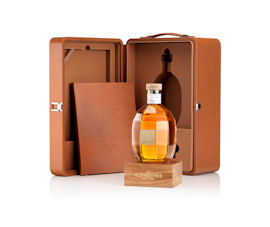 The Glenrothes single Speyside malt whisky, distributed by Maxxium UK is bolstering its range even further with the unveiling of a new series of single cask bottlings from the late 1960s and 1970s.
Since 1994 The Glenrothes has released less than one single cask a year. However, The Glenrothes newest series, The Extraordinary Cask Collection, will be welcomed by whisky enthusiasts who have expressed great demand for older and rarer bottlings.
The popularity of The Glenrothes spirit amongst the whisky industry's master blenders has increased so much that, unlike some distillers, there has until now been no remaining older stock at the distillery.
However, the first of this new series, The Glenrothes 1970 Extraordinary Cask #10573 came to the attention of Ronnie Cox, Brands Heritage Director following a process of assessment where a small number of casks were subsequently selected.
Ronnie Cox said; "Extraordinary is a term associated with the heritage of the wines sourced and endorsed by Berry Bros. & Rudd. It applies equally to these casks selected for their personality and excellence, allowing them to stand alone as examples of the supremacy of The Glenrothes bloodline. The first of these is a whisky distilled in 1970 which, in keeping with The Glenrothes' philosophy to bottle at peak maturity, is
now ready to be committed to glass. The anticipation for this release is such that the first Extraordinary Cask is on allocation only."
Commenting on the new release Peter Sandstrom, Marketing Director for Maxxium UK said: "The appeal of The Glenrothes is growing from strength to strength with its reach expanding. This will be enhanced with the release of the new Extraordinary Cask Collection, which we anticipate much excitement for within the industry and strongly believe it will be warmly received by whisky enthusiasts."
The shape of the instantly recognisable iconic Glenrothes bottle has been enhanced further, using hand-blown lead crystal, for the single cask decanter. It is also in keeping with the elegance of the whisky and the heritage of The Glenrothes. Each decanter has been individually created by a master craftsman at Atlantis Crystal in Alcobaca, Portugal, using the purest form of crystal. Brass has also been used for the hand-engraved collar on the neck of the decanter, supplied by Charles Stott, of the Edinburgh-based Scottish Silversmiths. In addition, the head of the stopper is fashioned from the wood of the very cask # 10573 in which the whisky has matured.
The Glenrothes 1970 Extraordinary Cask #10573 will initially be available from Berry Bros. & Rudd and its representatives in keymarkets. Prices will start at £3,000 (€4,000 or $5,000) and upwards per bottle.
Please enjoy our brand responsibly. www.drinkaware.co.uk
<< Back to all the latest new brought to you by Planet Whiskies