BenRiach in Elgin re-starts its own maltings: 7th November, 2012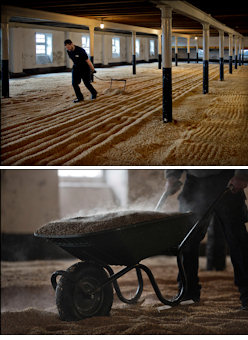 BenRiach started making its own malt again this week which means the Elgin distillery is now one of only a handful of distilleries in Scotland with its own maltings.

Malt whisky production begins when the barley is "malted" — by steeping the barley in water, and then allowing it to get to the point of germination. Malting releases enzymes that break down starches in the grain and help convert them into sugars. When the desired state of germination is reached, the barley is dried using the traditional kiln floor.

BenRiach's Stewart Buchanan explained: "For the last year we've been working hard to get the maltings back up and running. After being shut for the best part of thirteen years, the machinery is still in great condition.
"Earlier, we got some weight on the system to see how it would run under stress. Three tones of barley whirled round the floors and it was great to hear its blood pumping and the old place coming back to life.
"Re-starting the maltings has coincided with some strange events in the old distillery. As some of the boys worked late into the night painting around the steeps, footsteps and voices were heard over at the kiln area on the other side of the building. Thinking it was myself or Les, our engineer, they headed over for a blether…but found no-one! They thought we had left and went back to the job in hand. The second time they heard the noises they shouted over but no reply. And the third time, the paint brushes were dropped and a hasty exit was made! Perhaps it was the wind…or perhaps not!"
BenRiach MD Billy Walker said: "From a commercial point of view, it makes no sense because the costs of producing malted barley are significantly more. The reason we're doing it is because we had everything in place and in fantastic condition. Bolting the maltings onto BenRiach is a beautiful join-up."
Founded in 1898, BenRiach is a single malt Scotch whisky distillery in the Speyside area of Scotland. Gaelic for "speckled mountain", it's operated independently by the BenRiach Distillery Company Limited which was formed by two South African funding partners, Geoff Bell and Wayne Keiswetter, and Scotch whisky expert Billy Walker. In 2008, the company expanded its portfolio with the acquisition of the GlenDronach distillery in Aberdeenshire.
Two pictures show the resumed maltings at BenRiach.
Read more about BenRiach at www.benriachdistillery.co.uk
See all the Single Malts Whiskies from BenRiach Distilery
Read more about the history and see contact details for BenRiach distillery
<< Back to all the latest whisky news brought to you by Planet Whiskies