The BenRiach And GlenDronach Single Malts Win Gold In Stage One Of The World Whiskies Awards 2016
Published Date: 3rd February 2016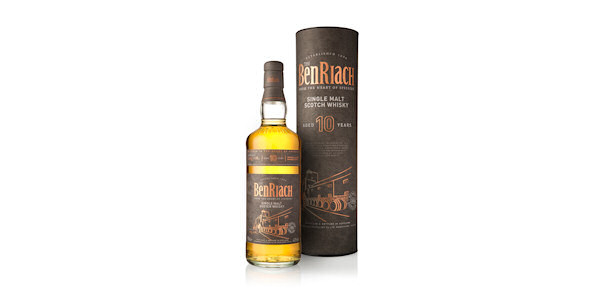 The stage one winners and medallists of the 2016 World Whiskies Awards have been announced, with the BenRiach 10 Years Old and the GlenDronach Cask Strength batch 5 both winning gold.
Presented by Whisky Magazine, The World Whiskies Awards select, reward and promote the best Whisky Taste and Design to consumers and trade across the globe.
In stage one, each whisky is tasted in its relevant sub-category to identify and select the sub-category winners and award any medals. The panel of expert judges blind tasted entries grouped by their style, region and age statement. Each entry is tasted blind and marked to an agreed and strictly enforced marking system. In addition to nose, palate and finish, the judges will look for balance, character, complexity, quality and functionality.
The BenRiach 10 Years Old has won a gold medal in the Speyside 12 Years & Under category. The 10 Years Old, the cornerstone of the BenRiach range, is the first core range expression to be created predominantly from whiskies distilled at the BenRiach Distillery after it was acquired in 2004 by Master Blender, Billy Walker, and his two South African partners. This fresh, fruit-laden single malt captures warm oak spices, green apple, dried apricots, peach and banana with subtle touches of aniseed, lemon zest and barley.
In the Highland No Age Statement category, the gold medal was awarded to The GlenDronach Cask Strength Batch 5. A perfect example of the traditional GlenDronach character, bottled at 55.3%, non chill filtered and at natural colour. This latest batch of the popular Cask Strength releases brings a perfect combination of sweet golden sultanas, rich fig syrup, ground almonds, orange bitters and a gentle dusting of black pepper. On the palate, Demerara sugar-glazed dark fruits lighten to apricot syrup infused with stem ginger and vanilla.
Sales and Marketing Director Alistair Walker said: "To receive a gold medal for the BenRiach 10 Years Old is particularly satisfying as it is the cornerstone of the BenRiach core range. Its release last year was a significant milestone for the distillery and the 10 Years Old has been well received by whisky aficionados around the world."
<< Back to all the latest whisky news brought to you by Planet Whiskies