Auchentoshan Launches Silveroak 1990 Exclusively for Travel Retail - 11th September, 2013
Welcom to the latest news from Auchentoshan Distillery. Today we have a launch of Silveroak 1990 22 year old Scottish Single Malt and has been added to Auchentoshan Travel Retail range. There 300 8.4ltr cases made available for purchase through this method and is priced at £90. To read the full press release from Auchentoshan Distillery and see tasting notes for Silveroak 1990 please read below.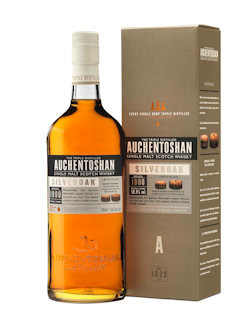 Auchentoshan, Scotland's only triple distilled Single Malt Scotch Whisky, will add to its travel retail range with a new limited edition release of the Auchentoshan Silveroak 1990. Following on from the success of the first batch of Silveroak, this limited second release of the 1990 vintage has been matured for an additional year making it 22-years-old. Therefore the second release of the Auchentoshan Silveroak expression demonstrates the increase in complexity associated with longer maturation.
Established in 1823, Auchentoshan triple distils every drop meaning the spirit produced reaches 81.5% ABV, significantly higher than most distilleries in Scotland. The lightness of the liquid enables it to absorb every characteristic it is exposed to in the cask. It is this smooth distillate paired with the carefully selected oak casks that gives Auchentoshan an unmistakably light and fruity flavour. The Auchentoshan Silveroak is no exception to this rule.
Auchentoshan Master Blender Rachel Barrie says "Having spent an additional year maturing in fine North American bourbon and Spanish Oloroso sherry casks, the 2013 bottling of Auchentoshan Silveroak reveals additional complexity which lifts the taste with silky oak, mint and almonds."
Boasting the same classically modern livery as its peers in the Auchentoshan Travel Retail range, the new Silveroak 1990 carton is masculine yet elegant. As with the liquid inside, the oak casks are the stars of the show on the pack. The North American bourbon and Spanish Oloroso sherry casks are pictured on three sides of the carton, reflecting how the flavours from the sweet bourbon oak perfectly compliment that of the rich Oloroso sherry.
Tasting notes Auchentoshan Launches Silveroak 1990
To the eye: Rich golden.

To the nose: Honeysuckle and jasmine with traces of baked banana, spearmint and silky oak.

To the palate: Elegant and refined with apricot filo pastry, icing sugar and liquorice.

The finish: Creamy cappuccino, cooling mint and sugared almonds.
There will be 300 8.4ltr cases of Auchentoshan Silveroak 1990 available globally in a range of international airports priced at £90.00 with an ABV of 50.9%.
For more information visit www.auchentoshan.co.uk
<< See more malts from the Auchentoshan Distillery
<< Back to all the latest whisky news brought to you by Planet Whiskies