The midleton very rare legacy continues with 2018 edition. Irish Distillers has unveiled the 2018 vintage of Midleton Very Rare: 3rd October 2018.
Published Date: 3rd October 2018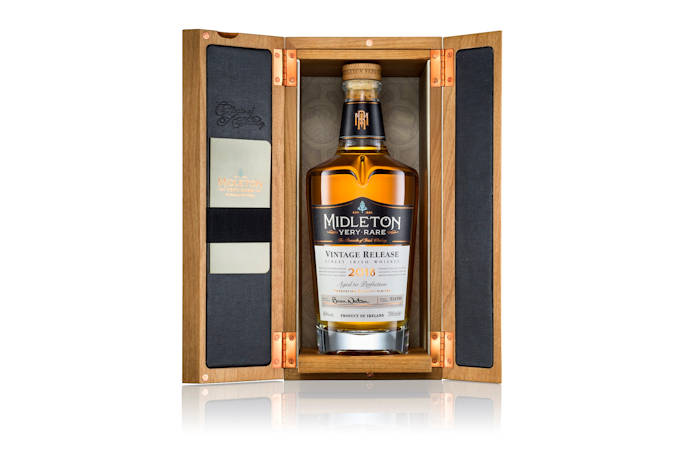 Irish Distillers, makers of the world's most enjoyed whiskeys, has unveiled the 2018 vintage of Midleton Very Rare. The 35th edition in the renowned and highly collectable range, first unveiled in 1984, is a masterfully blended Irish whiskey, crafted at the Midleton Distillery, Co Cork, by Master Distiller Brian Nation.
Midleton Very Rare 2018 is the result of the careful blending of exceptional, rare and hand-selected single pot still and single grain Irish whiskeys. Each cask has been matured exclusively in lightly-charred ex-Bourbon American oak barrels for between 12 and 28 years, imparting a vanilla sweetness which is in keeping with the rich tradition laid down by the series over the past four decades.
The 2018 edition offers a subtle floral note alongside a hint of fresh herbs and citrus from the Irish grain whiskey contribution, which is complemented by the spicier Irish single pot still whiskey characteristics of cinnamon, clove and black pepper. The vanilla sweetness contrasts with the charred oak to deliver a finishing touch of orchard fruit, green banana and a hint of barley sugar.
Bottled at 40% ABV, Midleton Very Rare 2018 is available globally from this month at the RRP of €180 in markets including Ireland, the UK, and the US.
Brian Nation, Master Distiller at Midleton Distillery, commented: "It is a great honour to have my signature on the front of each bottle of Midleton Very Rare, and this acts as the ultimate guarantee of quality from the Midleton Distillery. We set aside very small amounts of particularly fine single pot still and single grain distillates each year so that the Midleton Very Rare legacy can continue. This practice has been going on for over 40 years and today we are the proud custodians of the exceptional distillates with a duty of care to ensure that future generations are able to enjoy the pinnacle of Irish whiskey as we do today."
<< View Scottish Single Malts on Planet Whiskies
<< Back to all the latest whisky news brought to you by Planet Whiskies