Latest Whisky News -The Macallan Single Malt Whisky
The Macallan to auction six litre "Imperiale" decanter of Macallan 'M' - 9th January, 2014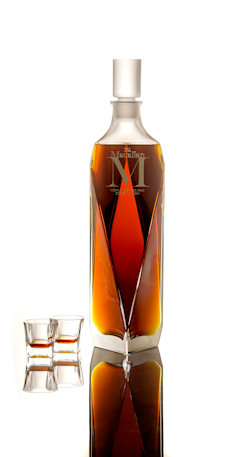 The Macallan is to auction an impressive 6 litre "Imperiale" version of the highly sought after Macallan M - the world's most sophisticated single malt whisky, contained within a beautifully designed and meticulously crafted crystal decanter.
M represents a masterpiece created from the collaboration between three masters of their crafts; Fabien Baron, Founder and Creative Director of Baron & Baron, Silvio Denz, President and CEO of Lalique and Bob Dalgarno, Whisky Maker at The Macallan.
To celebrate the conception of M and its global launch in Hong Kong, four 6-litre Imperiale decanters were specially crafted by Lalique for The Macallan. These are the largest decanters ever made by Lalique. Each decanter required the work of 17 craftsmen, including two with the prestigious title, "Meilleur Ouvrier de France", with each taking over 50 hours to complete.
Of the four, two have been archived by The Macallan and one has been committed to a private collector in Asia. The fourth, Constantine (named, as are the other three, after Roman emperors), is the only one to feature the engraved autographs of the three principal creators – Lalique/Silvio Denz, Fabien Baron and Bob Dalgarno. This highly collectable creation will be offered at auction of Finest and Rarest Wines and The Macallan by Sotheby's in Hong Kong on Saturday, 18 January 2014.
David Cox of The Macallan commented : "The six litre Imperiale "M" is the largest decanter ever produced by Lalique, and the largest decanter ever filled with the Macallan since the distillery was founded in 1824. This auction offers the successful bidder an opportunity to acquire something very special, drawing on the combined talents of one of the world's great designers, the finest of crystal makers and makers of one the world's great spirits, The Macallan. Hopefully the auction will realise an outstanding bid, worthy of this great piece, with the net proceeds going to a number of worthy charities in Hong Kong".
The Macallan is one of the world's most sought after and collectable whiskies, sitting at the top of the auction index for whiskies and holding the current Guinness World Record™ for the most expensive whisky ever sold at auction, The Macallan 64 years old in LALIQUE Cire Perdue went for US$460,000.
All net sale proceeds will be donated to a host of local charities in Hong Kong.
Read more about The Macallan 'M'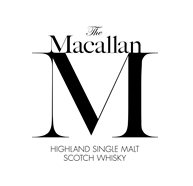 << View Single Malt Whiskies in The Macallan range
<< Back to all the latest whisky news brought to you by Planet Whiskies