Whisky News - Tamdhu Re-Launch Captures The Spirit Of Speyside - 7th May, 2013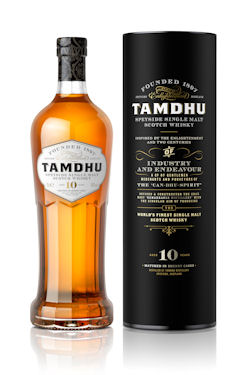 One of Speyside's founding distilleries, Tamdhu has re-launched (Friday 3 May 2013) with a stunning new 10 year old Speyside Single Malt.
Acquired in June 2011 by Ian Macleod Distillers, leading Scottish independent family owned distiller and bottler, Tamdhu Distillery was established in 1897 by a consortium of pioneering businessmen who embodied the 'can-dhu' spirit of their generation.
Inspired by an age of industry and endeavour, the Tamdhu story is one of enlightenment that began, and continues to this day, on the banks of the River Spey. Now, just as then, Tamdhu is matured in only the finest oak sherry casks with natural Speyside water from the Tamdhu spring.
The new Tamdhu 10 yo has a softness of vanilla and sugared almonds on the nose balanced by fresh oak and cinnamon. Bursting with fruit and spice, which gently yields to toffee, there is a richness of sherry oak on the palate with a gentle hint of peat smoke wisp.
Designed to maximise on-shelf presence, the packaging communicates the brand's values and provenance with a stylish, textured black, white and gold tube, illustrated monograms and an elegant glass bottle, inspired by the Victorian era.
Commenting on the launch, Leonard Russell, managing director and third generation of the family-owned Ian Macleod Distillers, said: "Tamdhu has a reputation for producing exceptional quality single malt and we are excited to re-launch Tamdhu today. We are committed to revitalising and growing Tamdhu not only as a brand but from an economic and investment perspective with new jobs created and significant investment in the infrastructure and fabric of the Distillery.
"The re-launch has been in the planning for nearly two years to ensure that our best casks had hit their peak before bottling. With a focus on quality, we have honoured the careful distillation process to create a premium malt Scotch whisky we believe Tamdhu's founders would be proud of."
Iain Weir, Ian Macleod Distillers' Marketing Director, added: "Tamdhu is a perfect complement to our existing portfolio of brands, delivering a premium Speyside malt and real point of difference for the category. There has been significant interest from consumers and trade to see what we would do with Tamdhu and the Speyside Whisky Festival is the perfect platform to reintroduce the brand on its home soil.
"We are committed to growing the brand within the UK and internationally, and are confident it will prove popular with whisky enthusiasts and connoisseurs alike."
Tamdhu 10 yo Speyside Single Malt Scotch Whisky is available from Waitrose, specialists and independents across the UK from 6 May 2013 with an RRP of £34.99. It will be distributed globally over the coming months.
In addition, a special commemorative 10 yo bottling, which is matured in 100% first fill sherry casks, has been released by Ian Macleod Distillers. Only 1000 limited edition bottles are available to buy online priced at £100.
The Tamdhu re-launch is being supported by a new dedicated website, social media, advertising and promotional campaign. For more information, please visit www.TAMDHU.com or call Ian Macleod Distillers on 01506 852205.
Tamdhu – Please Drink Responsibly
www.drinkaware.co.uk www.scotch-whisky.org.uk