Latest News from the whisky industry - Scottish Whisky Association - June 03, 2009
Whisky distillers set out Green Commitments

Scotch Whisky companies have pledged to cut their use of fossil fuels by 80 per cent by 2050,under the first industry-wide environmental strategy, published today (Wednesday 3 June).
The fossil fuel reduction amounts to an annual saving by 2050 of over 750,000 tonnes of carbon dioxide - the equivalent of taking 235,000 cars off Scotland's roads.
Cutting the reliance on fossil fuels is only one of a number of tough industry-wide targets, which include: a significant reduction in the average weight of packaging used; the elimination of sending waste from packaging operations to landfill sites; a commitment to source future whisky casks only from sustainable oak forests; and to maintain the highest standards of water use and discharge management.
The 'big ticket' goals will be achieved through improved operational efficiency and continued investment in innovative technologies, with an emphasis on renewable sources of energy. Targets have been set in two phases, 2020 and 2050, and the industry has volunteered to publish its achievements annually to show what progress has been made.
The Environmental Strategy - which took two years to produce under the auspices of The Scotch Whisky Association - was unveiled today at Dynamic Earth, Edinburgh. Speaking at the Strategy launch, it was welcomed by Richard Lochhead MSP, the Scottish Environment Secretary, who praised Scotch Whisky producers for being the first industry in Scotland to commit to the demanding climate change targets set by the Scottish Government for 2050.
The SWA also announced that member companies had already agreed plans to invest over£100m in environmental initiatives, such as bio-energy plants at Roseisle, Cameronbridge, and the Combination of Rothes Distillers. The industry also pledged to work with its supply chain to reduce their CO2emissions.
Gavin Hewitt, Chief Executive of The Scotch Whisky Association, said:
"Today's launch of our first industry-wide Environmental Strategy is a bold move by distillers. We believe it demonstrates our commitment to securing Scotch Whisky's future, addressing issues of the environment and the economy.
"Investment of over £100m has been approved in environment-related improvements over the last 18 months alone. The good news is that we are making more whisky but already using less energy. Spirit production has increased by over 20 per cent over the last decade, yet our energy efficiency has also improved by a similar amount - a great achievement. We are not newcomers to the environmental agenda but there is a recognition that we must do more across all our operations. We intend to work closely with our supply chain - 50 per cent of our emissions are not under our direct control - so that we can jointly reduce our impacts on the environment."
Richard Lochhead MSP, Cabinet Secretary for Rural Affairs and the Environment, said:
"The future of Scotland's iconic whisky industry relies on our equally iconic and prestigious environment and the industry is ahead of the game with this pioneering strategy. If delivered fully,these commitments will be of real benefit to our environment.
"Scotland's record export sales figures of over £3 billion for last year demonstrate the important contribution this industry plays to our economy. The whisky sector directly employs 10,000 people and 41,000 Scottish jobs depend on it, many of which are in economically fragile rural areas. But the benefits of whisky to Scotland can be counted in more than pounds and pence: it is iconic of Scotland, and synonymous with quality and prestige."
David Rae, Managing Director of The North British Distillery Company and Chairman of the SWA's Environment Strategy Working Group, said:
"This Strategy makes good environmental and good business sense. Distillers have always understood the long term view and our targets up to 2050 are both ambitious and stretching. "Over the last two years, we have developed a comprehensive understanding of the industry's impacts on the environment. This has allowed us to identify key areas where more can be done and a baseline from which to measure our progress. Our targets will only be met through industry investment and collaboration, coupled with the support, commitment and enthusiasm of government and our supply chain. This strategy is ground-breaking and is a clear signal of our commitment to take a lead on sustainability issues."
North British, a joint venture between Diageo and The Edrington Group, has already beaten by two years its own specific energy target under the climate change initiative for 2009/2010. Its Edinburgh distillery will also supply waste heat to the new Tynecastle High School.
<< Back to all the latest whisky news brought to you by Planet Whiskies
Distillery of the Month: November 2023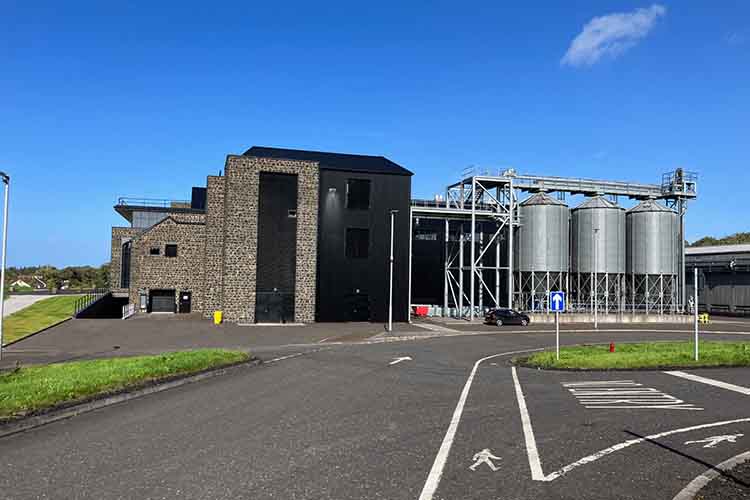 Planet Whiskies visited the new Bushmills Distillery in Northern Ireland on the 25th and 26th of September. Read our review of the experience of Bushmills and Northern Ireland at Planet Whiskies tour of Bushmills and Northern Ireland
You can also read the whole section about Bushmills Distillery at Bushmills Distillery Information on Planet Whiskies... So Bushmills is Planet Whiskies Distillery of the Month title for November 2023
Get Newsletter
Subscribe to our newsletter to get latest news, popular news and exclusive updates.