Introducing Redbreast Dream Cask Double Cask Edition: A magnificent limited-edition release to celebrate World Whisky Day
Published Date: 20th May 2022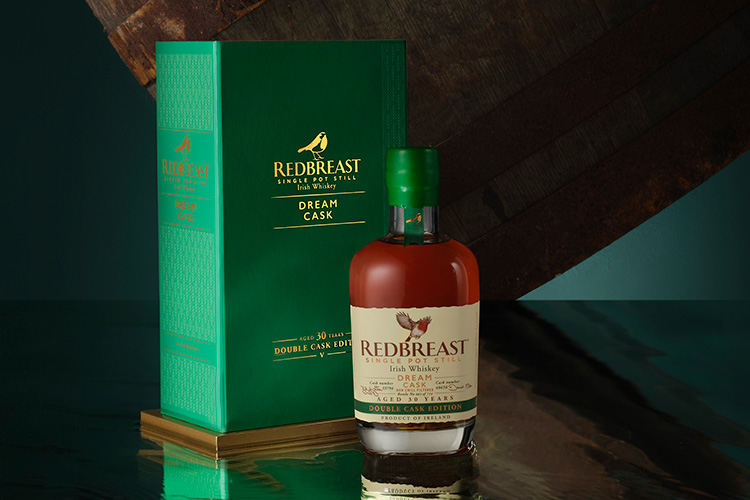 It was our pleasure on Tuesday 19th May to take part in the new Redbreast Dream Cask (fifth edition) tasting session and sample this excellent whiskey. It was a lovely experience, and tasting the Dream Cask was not disappointing. It had so many delightful flavours, and one everyone should try if they have a chance. The ballot to buy a bottle of this Dream cask opens Monday next week, and with only 714 bottles going to be available, it will be a special addition to any collection you might have.
Below is the release direct from Redbreast telling you all about this new Dream Cask.
Redbreast Irish Whiskey, produced by Irish Distillers at its world-renowned Midleton Distillery in Co. Cork, is launching the fifth edition in its celebrated Dream Cask series to mark World Whisky Day 2022.
Redbreast Dream Cask Double Cask Edition is a 30-year-old single pot still Irish whiskey which captures the quintessential Redbreast style while celebrating innovation and craftmanship. The fifth edition represents a truly unique addition to the series, marrying two dream casks, hand-selected by Master Blender, Billy Leighton and Blender Dave McCabe to create one exceptional whiskey.
To create this extraordinary whiskey, Leighton and McCabe each hand-selected their favourite cask from Midleton's inventory before combining them to create one heavenly whiskey. The first cask, chosen by Leighton, was originally laid down in a first fill oloroso sherry butt in May 1990, while the second – chosen by McCabe – was laid down in a first-fill bourbon barrel in November 1991. Each cask, reflective of the two distinct components of the Redbreast DNA, was chosen at its optimum maturity, then combined to showcase the unique traits imparted by each of the following three decades of ageing.
"Bottling these outstanding casks together at precisely the right moment has resulted in an incredibly complex Irish whiskey that harmoniously balances the vanilla sweetness and caramel creaminess from the bourbon barrel and the deep, dark fruitiness from the sherry butt," explains Leighton.
"With an ABV of 56.9%, the resulting liquid is rich in robust spice with wood-driven characteristics and notes of dark-roasted coffee, sweet liquorice, orange peel and smoked almonds amplified by the wine cask's influence."
Launching for World Whisky Day, 714 bottles of Redbreast Dream Cask Double Cask Edition will be available exclusively through an online ballot hosted on Redbreast's online members' club The Birdhouse at an RRP of €550. Each of the 500ml bottles will be presented in a keepsake book, made from recyclable cardboard*, detailing the latest instalment in the Dream Cask journey.
"The Dream Cask collection has always been about sharing our most rare and special casks with Redbreast fans around the world, and we are thrilled to showcase two distinct casks within this release," explains Leighton.
"For this 2022 expression, we set out to create a perfectly-aged single pot still whiskey that captured the qualities and virtues of its Dream Cask predecessors, but with a new and distinctive twist of marrying these two casks just at the point of bottling. We are delighted with the results and are excited to share this next chapter in the unfolding story of Redbreast."
McCabe adds: "The traditional Redbreast style is so often associated with the influence of sherry casks that we sometimes overlook the role bourbon casks play in its composition. I am honoured to have been able to select my perfectly aged dream bourbon cask for this year's Dream Cask and to pay homage to that unbeatable harmony that makes Redbreast so special.
"We are incredibly fortunate that we have the variety of aged stock at Midleton Distillery to explore and make our dreams a reality. Sharing our discovery with whiskey drinkers across the world is one of the most exciting and joyful aspects of my role to date."
The ballot will be open for entries from Australia, China, Japan, New Zealand, Republic of Ireland, Singapore, South Africa, Switzerland, England, Scotland and Wales from 23rd May. When the ballot closes on 30th May, successful participants will be given an opportunity to purchase a limited-edition bottle of Dream Cask Double Cask Edition.
More Whisky News