Pure Scot Collaborates With Australian Street Artist Vexta On One-Of-A-Kind Art Installation
Published Date: 5th August 2019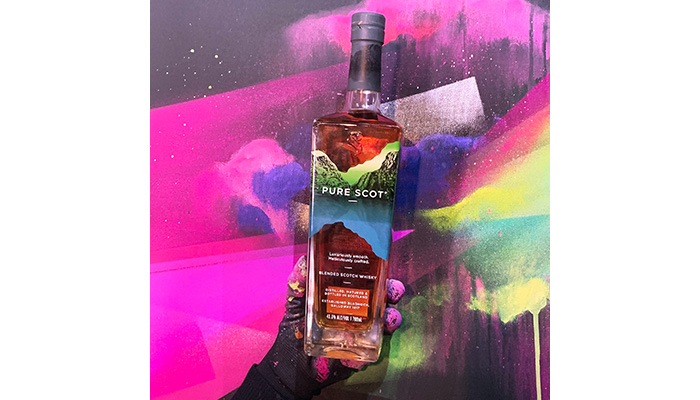 Australian-owned Scotch Whisky, Pure Scot, is celebrating its collaboration with Australian street artist, Vexta. In September, a custom art installation will be created at the home of Pure Scot, Bladnoch Distillery, situated deep in the Scottish Lowlands. The partnership marks the beginning of a series of creative collaborations with international artists who embody Pure Scot's values of boldness, progression and positivity.

Vexta is a self-taught artist from Sydney, Australia. With a background in street art beginning in the mid-2000s, her bold and extravagant artworks have invaded our visual landscape from Melbourne to Mexico and everywhere in between, from large scale murals to gallery exhibitions, she is a nomad of our modern times. She has exhibited extensively across Australia, Europe and North America.

From Thursday the 1st of August, Pure Scot is supporting Vexta in her first solo exhibition held at KSR Art Bar in Melbourne, named 'Cosmos', a visual exploration and emotional response to the current environmental crisis.

Pure Scot will launch a limited edition of 200 bottles, based on Vexta's installation at the distillery. The edition will only be sold in the Distillery's Visitor Centre at Bladnoch Distillery and via Pure Scot's online store.

"I'm excited to partner with Pure Scot. Not only is it a chance to explore my Scottish heritage further, but as a Whisky fan it's a dream to have my own limitededition release.", remarked Vexta.

Pure Scot is a Scotch Whisky launched in 2016 by Australian, David Prior. Since then, the Whisky has won several international gold medals for both expressions, Pure Scot Signature and Pure Scot Virgin Oak 43. Contemporary and fresh, Pure Scot is a Scotch Whisky made with passion and experience.
<< Read more about Bladnoch Distillery
<< View Scottish Single Malts from Bladnoch

<< View Scottish Single Malts on Planet Whiskies
<< Back to all the latest whisky news brought to you by Planet Whiskies