Irish Distillers Pernod Ricard launches new website to celebrate Single Pot Still Whiskeys - 19th September, 2011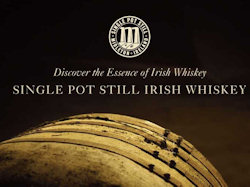 Irish Distillers Pernod Ricard has launched an informative new website to support its growing portfolio of single pot still Irish whiskeys. Offering insight into the rich history and heritage of the unique whiskey style, www.singlepotstill.com features a series of insightful films created exclusively in conjunction with renowned Irish whiskey writer and historian, Peter Mulryan.
Bringing to life the story of one of Mulryan's greatest passions, the six films chronicle the intriguing history of Ireland's whiskey tradition and feature some of the central figures in the history of single pot still whiskey, including John C Ryan – a seventh generation Distiller and the last member of the Powers family to work for Irish Distillers – and Robert Mitchell, of Mitchell & Sons whiskey bonders, also representing the seventh generation of his family.
The films explore each of the single pot still whiskey brands within Irish Distillers' portfolio, including Redbreast, Green Spot, Powers and Midleton, shedding light on the origins and unique personality of each brand in a relaxed style that is guaranteed to appeal to both the whiskey enthusiast and the casual browser.
The launch of www.singlepotstill.com will be followed by new websites for Redbreast, Green Spot, Powers and Midleton.
The website also features a history section that details the story of Irish whiskey through the years from 500 AD to today; information on Midleton Distillery, the home of Irish pot still whiskey; a section on each of the four brands which make up the 'Single Pot Still Whiskeys of Midleton' range; and an online shop, where visitors can purchase products. Fans of single pot still Irish whiskey can sign up to the website's members section, entitled 'The Stillhouse' to receive news updates, exclusive content as well as a members' welcome pack.
Brendan Buckley, Global Category Development Director for Irish whiskey at Irish Distillers, said: "With the recent addition of Powers John's Lane and Midleton Barry Crockett Legacy to our portfolio of single pot still whiskeys, and with the renewed global interest in the category, it was important for us to create a website that visitors will find both interesting and educational. By joining forces with Peter Mulryan, we have been able to offer quality content that perfectly captures the true story of what was once the world's most popular style of whiskey. Additionally, we can safeguard the history and heritage of single pot still whiskey on behalf of the Irish whiskey industry."
Single Pot Still whiskey is unique to Ireland, and in particular Midleton, Co. Cork. Made from a mash of malted and unmalted barley that is then triple distilled in traditional copper pot stills, this style of whiskey is renowned for its full, complex flavours and smooth, creamy mouth feel.
<< Back to all the latest new brought to you by Planet Whiskies