Kingsbarns Distillery Unveils New Global Flagship Whisky: Doocot
Published Date: 2nd March 2023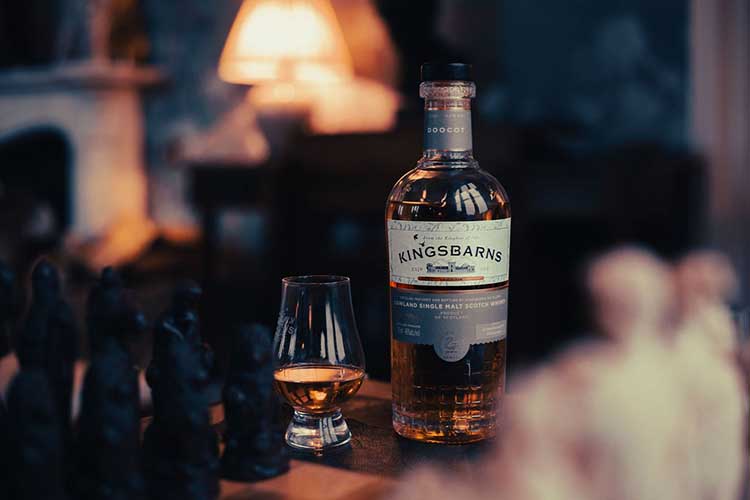 Kingsbarns, the award-winning distillery in the Kingdom of Fife, has today unveiled a new flagship whisky - Doocot - an independent, lowland spirit paying tribute to the distillery's unique location, architecture and local surroundings.
This is the first global launch for the brand, as the new flagship malt is being unveiled across the 34 markets across UK, Europe and the United States simultaneously.
Available from 3rd March, the new single malt scotch whisky is a natural evolution from the distillery's highly-popular and multi award winning 'Dream to Dram'. Distilled from barley sourced less than six miles from the distillery, the flagship single malt has enjoyed further maturation in cask than 'Dream to Dram', maintaining balance and developing its complexity.
Kingsbarns Distillery's Production Director, Isabella Wemyss, has carefully selected a combination of ex-Bourbon and STR (shaved, toasted and re-charred) ex-Portuguese red wine casks to mature Doocot. On the nose, the whisky features sumptuous sweet and floral scents of soft brown sugar with banana cake batter and tropical notes. On the palate, you can expect a beautiful combination of pineapple syrup, and summer berries with a hint of rhubarb - a must-try for all whisky drinkers. Non-chilled - filtered and bottled at 46% this lowland single malt is full of sweet, fruity character. Doocot is light, intensely fruity and floral, complemented by a rich colour coming from the high-quality casks it has matured in. Doocot is on sale now via the Kingsbarns Distillery website (RRP £45).
The Scots word for dovecot, the name, Doocot, pays tribute to one of the most striking architectural features at Kingsbarns Distillery. A free-standing structure with Adam-style crenellations and Gothic detailing, it looks to all the world like a miniature fortified tower.
William Wemyss, Founder and Managing Director of Kingsbarns Distillery, said: "Doocot has been years in the making. We've spent a lot of time perfecting the distilling process to make sure we've crafted the perfect finish. We're so proud of the end result that Doocot now stands as our flagship whisky, taking over the mantle from Dream to Dram.
"The new addition to our range allows whisky lovers to enjoy the same fruity and indulgent flavours that they're used to but with an added level of balance and complexity. As we transition into the warmer months, Doocot is the perfect refreshing, fruity dram that is guaranteed to take whisky fans on a stunning flavour journey – we hope customers love it as much as we do."
To celebrate the launch, 30 bottles of Doocot will be available on 3rd March in a selection of bars across Scotland. Please visit @kingsbarnsdistillery on Instagram to find out where you can purchase your first Doocot dram.
Doocot is the new flagship malt within Kingsbarns' core range. It is available to purchase for £45 from 3rd March via direct channels. Find out more at kingsbarnsdistillery.com.
More Whisky News