World-famous Jim Beam Stillhouse lands in London for two nights only - 21st August, 2013
The Jim Beam Stillhouse
A story of water and grain blended with the unique magic of Kentucky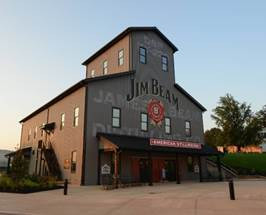 This November, the world's number one bourbon is set to bring the magic of its famous Jim Beam distillery to the heart of London. On 21 and 22 November 2013, Jim Beam will transport bourbon-loving Londoners over the rolling hills of Kentucky and into the world-class Jim Beam Stillhouse which will stand, for two nights only, in The Old Truman Brewery on Brick Lane, London.
Offering a twist on the American institution, the Jim Beam Stillhouse will provide guests with an attack on the senses through an authentic distillery experience, as well as the opportunity to become part of Jim Beam's history.
Upon entry, guests will be welcomed into The Heritage Room where they will soak up the Kentucky scenery on the Stillhouse veranda, whilst hearing the story of Jim Beam.
Visitors will then travel through tunnels deep into the Stillhouse for an intriguing glimpse into the Distillation and Ageing Room, bringing them closer to the bourbon-making process. Immersive theatre will bring to life the unique proprietary process used to create Jim Beam's most intense member of the family, Devil's Cut, whilst guests revel in a taste of the extraordinary new bourbon.

A flavour explosion awaits in The Mixology Room where bartenders will serve up a playful cocktail experience. Here guests can enjoy the infused flavours of Red Stag by Jim Beam and Jim Beam Honey.
The journey will culminate with the unique opportunity for guests to make their mark on Jim Beam's history, before being brought back out onto the bustling streets of Shoreditch, by signing their name on an authentic American oak barrel, which will be taken back to the distillery in Kentucky, filled and aged. All Stillhouse attendees will then receive a bottle of Jim Beam White from the special barrel four years later.
Tickets for this inimitable distillery experience in London are sure to be snapped up quickly, so get them while you can and, in the words of seventh generation Master Distiller, Fred Noe, you'll 'come as a friend and leave as family'.
The price of tickets is £5 (plus booking fee) and spaces are limited. Available through Eventbrite
When: Thursday 21 November, from 6pm – 10pm
Friday 22 November, from 6pm – 10pm
Where: The Boiler House at the Old Truman Brewery
91 Brick Lane
London E1 6QL

Bookings: Book your time session at https://jimbeamstillhouse.eventbrite.com
<< Back to all the latest new brought to you by Planet Whiskies