Ian Macleod Distillers buys a second distillery – Speyside's Tamdhu - 29th June, 2011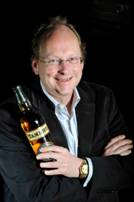 29 June 2011, Edinburgh: Ian Macleod Distillers, the independent, family-owned distiller, blender and bottler has purchased Tamdhu distillery in Speyside from the Edrington Group.
Established in 1897, Tamdhu's distillation capacity of four million litres of alcohol per year will support the continued growth of Ian Macleod's existing brands, including Isle of Skye, Lang's and the King Robert II blends. The Tamdhu Single Malt brand is also included in the sale, and Ian Macleod Distillers plans to significantly develop its sales both within the UK and abroad.
Leonard Russell, Managing Director of Ian Macleod Distillers, said: "Having purchased Glengoyne Distillery from Edrington in 2003, we are delighted to be acquiring a second distillery from them, safe in the knowledge that it has been maintained to a very high standard and comes with a reputation for producing exceptional quality single malt.
"I am also pleased that we will be securing and creating new local employment during these uncertain economic times. We are looking forward to developing the Tamdhu single malt following our successful growth of Glengoyne".
Ian Curle, Chief Executive of The Edrington Group, said: "The Edrington Group is delighted to complete the sale of Tamdhu to Ian Macleod Distillers. Edrington and Ian Macleod have a good relationship stretching back many years, and we know the Tamdhu Distillery and brand will be in good hands. From Edrington's perspective, the sale will further de-complex our business, allowing us to continue to focus on the growth of our five key brands, The Famous Grouse, The Macallan, Brugal, Cutty Sark and Highland Park."
Since purchasing Glengoyne distillery in 2003, Ian Macleod Distillers has more than doubled sales of Glengoyne Single Malt. Ian Macleod has built four additional maturation warehouses, capable of housing up to 5 million litres and has invested in the visitor experience with renovations and improvements increasing visitor numbers to nearly 50,000.
The Glengoyne brand is currently promoting a new long-term marketing initiative based on the fact that Glengoyne is 'distilled more slowly than any other Scotch Whisky for the highest quality' and is investing upwards of £1 million in the UK drive alone over the next two years.
Ian Macleod Distillers recently announced improved financial results for the eighth consecutive year, with group turnover increasing 22% to £31.9 million in 2010. The purchase of Tamdhu Distillery was concluded on 28 June for an undisclosed sum.
<< Back to all the latest whisky news brought to you by Planet Whiskies