Holyrood Distillery launches first whisky 'Arrival'. Released on Friday 6 October 2023
Published Date: 5th October 2023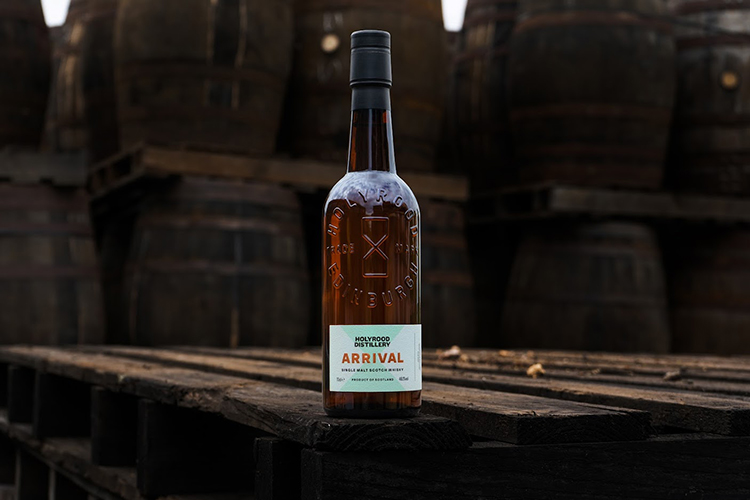 Holyrood Distillery's long awaited inaugural whisky, 'Arrival', is released on Friday 6 October. Created in the heart of Edinburgh's historic Old Town, in the shadow of Salisbury Crags, the whisky is distilled in a refurbished 'engine shed' (once part of the terminus of the Innocent Railway). 'Arrival' is one of the first single malt whiskies produced in Edinburgh in a century.
Founded in 2019, Holyrood Distillery is dedicated to producing spirits that are truly worthy of Scotland's capital city and its proud past as a centre of brewing and distilling.
Rob Carpenter, Founder of Holyrood Distillery, said: "This year Edinburgh has been well and truly placed back on the whisky-making-map and we're incredibly proud to be part of this revolution. Arrival embodies our story-so-far as whisky makers and marks the beginning of a journey of progression, innovation and experimentation.
"Just as the distillery is a part of Edinburgh, our city and its people, heritage and culture are what we draw inspiration from everyday. Our bottle avoids whisky cliché and leans into something a little more local, putting the Holyrood hourglass front and centre. The distinctive beer bottle silhouette and brown glass also pay tribute to a once-bustling glassworks located not too far from our distillery.
"The name 'Arrival' is inspired by Holyrood Distillery's iconic location in the former Innocent Railway terminal, this name not only gives a nod to Edinburgh's pioneering past but also invokes a sense of achievement in the release - we made it!."
Calum Rae, Distillery Manager, added: "Just as Edinburgh is made up of contrasting elements - modernity and heritage, the Old Town and the New Town, 'Arrival' brings sweet and spice together in a banging dram.
"This spirit has been matured in Oloroso Butts, Pedro Ximénez Hogsheads, Bourbon Barrels and Rum Barriques. We selected this whisky as our inaugural release, to reflect the first stage of all Holyrood recipe development, whilst showcasing the incredible and complex flavours which can be achieved by Holyrood at any age.
"On the nose, I get dried fruits and a sweetness almost like butterscotch or sticky toffee pudding. Taking a sip, there's digestive biscuit and ginger spice, with a wee savoury note. The finish is mouth watering and for such a young whisky, there's a surprising amount of complexity."
The distillery's first release uses traditional Scotch pot still malt and distilling yeast, the raw materials which form the flavour foundation of all Holyrood single malt whisky recipes. Each future release will be unique and will evolve from this recipe by layering in heritage and speciality malts, alongside a range of yeasts not typically used within scotch whisky production.
The first bottle of Arrival will be sold as part of the Distiller's One of One charity auction. The auction brings together an unparalleled collection of one-off, never-to-be-repeated Scotch whiskies from distilleries across the length and breadth of Scotland, each Lot showcasing the excellence and individuality of craftsmanship of Scotland's most stellar distilleries. The auction is in aid of The Yough Action Fund which aims to transform the life chances of young people in Scotland aged between 16 and 25.
Those looking to get their hands on 'Arrival' will have to be quick - with just 8,188 bottles produced. The whisky will be available in the Holyrood Distillery shop, on their website and in specialist retailers such as Royal Mile Whiskies, The Whisky Shop, Master of Malt and The Whisky Exchange. RRP is £67
More Whisky News