Glengoyne hosts BBC Golf Correspondents' 10th Annual Dinner
Published Date: 24th July 2009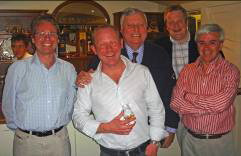 24.07.09, Dungoyne: Glengoyne Distillery recently hosted the cream of the golf broadcasting world for an exclusive dinner, crafted by award-winning Chef Tom Lewis, and tasting of the rarest and most valuable Glengoyne, The 40 Year Old.
Held during The Barclay's Scottish Open at nearby Loch Lomond the regular event, now in its tenth year, originally started as a way for the hardworking BBC golf team to let their hair down during a busy season. The annual dinner has grown in numbers over the years and become a must attend event for BBC golf correspondents such as Peter Alliss, Phil Parkin, Andrew Cotter and Wayne Grady.
The evening kicked off with 'Kilt Lifter' cocktails crafted from Glengoyne 10 Year Old, Drambuie and lime juice, a recipe specially requested in previous years by the BBC's Hazel Irvine.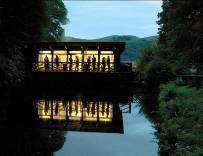 The dinner was held in the tranquil setting of the glass-fronted reception room, with its balcony overlooking the waterfall and glen. Tom Lewis of Monachyle Mhor prepared a delicious feast for guests, making full use of Scotland's natural larder.
Lord Robin Tedder, the third Baron of Glenguin, introduced a range of wines from his award winning Glenguin winery in Australia's Hunter Valley. Golfer and Broadcaster Peter Alliss lead a toast to Lord Tedder's grandfather, Arthur William Tedder who was born in the Customs House at Glengoyne Distillery, known as Glenguin until 1908, and rose to become Deputy Supreme Commander beneath General Eisenhower in the Second World War.
Stuart Hendry, Glengoyne Brand Heritage and Commercial Manager said: "It's a real pleasure to extend Glengoyne's hospitality to such an esteemed group. The yearly tradition is becoming one of the highlights of the golfing season.
"It also gives us a great opportunity to build on Glengoyne's successful partnership with like-minded Scottish brand MHOR in order to showcase some of the local Trossachs finest produce."
A tasting of Glengoyne's oldest and most valuable Highland Single Malt: the Glengoyne 40 Year Old rounded off the evening. This rare tasting was hosted by Ian Macleod Distiller's Marketing Director Iain Weir who introduced the nose of red apples and crème brulee, oily mouth feel and long, lingering dry finish of one of the finest whiskies the distillery has ever produced.
For further information visit:
Glengoyne encourages responsible drinking
www.drinkaware.co.uk ~~ www.scotch-whisky.org.uk
<< View the range of Glengoyne Single Malts
<< Back to all the latest whisky news brought to you by Planet Whiskies