Glen Scotia announces a remarkable programme of events for Campbeltown Malts Festival 2023
Published Date: 23rd March 2023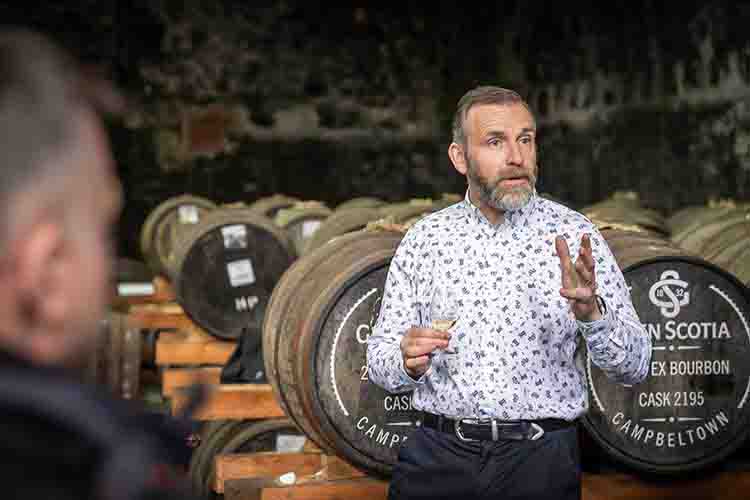 Annual Festival in the 'Wee Toon' will celebrate the distillery's heritage and renaissance with a series of tastings, tours, and entertainment
Award-winning whisky Distillery of the Year 2021, Glen Scotia, has announced a jam-packed series of events for this year's Campbeltown Malts Festival (23-24th May 2023).
A pinnacle moment in the distillery's annual calendar, the Festival provides an opportunity for visitors to enjoy the affectionately named 'Wee Toon' and learn more about the world's finest drams while soaking up the history of Scotland's smallest whisky-making region.
Master Distiller and Distillery Manager, Iain McAlister, and his team will be joined by a host of industry ambassadors for a programme of events that uncover the magic of Glen Scotia, which continues to gain global recognition.
In a first for the Glen Scotia event, visitors will be able to attend a selection of talks and tasting in the Courtyard free of charge, as well as ticketed events. Should they wish to enjoy a dram at the same time, they can purchase a £25 'Drampack' which will give them access to four of the distillery's finest drams, handpicked for each tasting, as well as a branded festival Glencairn glass and a lanyard.
Kicking off events, Glen Scotia's
Malts Festival Dinner will take place at the Machrihanish Airbase on Tuesday (23rd) evening where guests can hear from Iain McAlister and special guests alongside a three-course meal. This will be accompanied by entertainment and five drams including the yet unreleased annual limited-edition Festival Release and a number of single cask drams not otherwise available for sale.
On Wednesday, 24th: May, a taster of the schedule includes:
Industry guru, Charles Maclean MBE will join Iain McAlister for a special Dunnage Warehouse Tasting, where visitors will get the chance to sample five unreleased liquids handpicked by Iain from casks in the heart of the distillery.
Loch Lomond Group's Master Blender, Michael Henry will guide a Deconstructed Victoriana Tasting using five cask-strength drams to show the makeup of Victoriana, one of Glen Scotia's signature drams.
Drinks experts Neil Ridley and Joel Harrison will take inspiration from their latest book in a series of 60-second cocktails masterclasses, using a selection of spirits including whisky and gin. They will also host a Cask Strength Tasting in the Courtyard with Iain, Charles and Michael, where visitors can listen and join along as the group make their way through a selection of Glen Scotia's core range, limited release, and single cask samples.
Felipe Schrieberg, spirits writer and musician, and Paul Archibald, drummer, will bring a bespoke Glen Scotia version of their much-loved Rhythm and Booze Project, which incorporates folk and blues music with dram tastings.
Glen Scotia will unveil the results of its latest artistic collaboration through an immersive exhibition space deep inside its atmospheric warehouse. Guests will have the opportunity to hear directly from the artists themselves as well as sample liquid used during the recording
The event will also bring together some of Argyll's most prominent whisky figureheads for 'New Dawn for Campbeltown' - a panel talk in the Courtyard, hosted by Neil Ridley and Joel Harrison with Iain McAlister and guests.
The session will explore the remarkable history of the region, from a bustling whisky hub in the Victorian era to Scotland's smallest whisky-making region, looking at the re-emergence of the town's distilleries, and why the world is taking notice once again, with a chance to sample Glen Scotia's signature drams.
This year the programme will be bigger than ever before as Glen Scotia has also teamed up with the Mull of Kintyre Music Festival, to organise a series of one-off performances, talks and tastings on two new purpose-built stages in the distillery's Courtyard. Acts will include local Argyll band Heron Valley and Salthouse vocalist and guitarist Jenny Sturgeon.
Launched in 2008, the Campbeltown Malts Festival is a celebration of the region known as the 'Victorian Whisky Capital of the World' due to its illustrious past and the role whisky-making has played in the town for centuries.
Glen Scotia's full programme of events and tickets are available via its website: https://www.glenscotia.com
Iain McAlister, Master Distiller and Distillery Manager at Glen Scotia, said:
"Once again, The Campbeltown Malts Festival returns to the Wee Toon and we couldn't be more thrilled with the fantastic line-up of events, which will highlight what makes the town and our distillery such a remarkable place in the world.
"There will be a real focus on exploring our award-winning drams, and I'm really looking forward to the variety of sessions on offer for our visitors who come from all around the world.
"We've managed to secure some top names from the industry, from our good friend and whisky icon, Charles Maclean, Felipe and the amazing Rhythm and Booze project, and Neil and Joel who will host a varied selection of talks and tastings.
"Alongside tours of the town and distillery, the event, bigger and better than ever before, is a real chance for us to share what makes Glen Scotia such a special place."
Today, Glen Scotia is one of only three surviving distilleries in the coastal town but through a programme of continued investment and local effort, it is growing its presence in the UK and international markets, allowing the potential of Campbeltown to once again be realised.
For further information about Glen Scotia and regular updates on the Campbeltown Malts Festival, visit https://www.glenscotia.com or follow:
Twitter: @GlenScotiaMalts
Instagram: @glenscotiamalts
Facebook: @GlenScotiaWhisky
More Whisky News