Get a first glimpse of the new TV advert from the Famous Grouse!
Published Date: 18th November 2009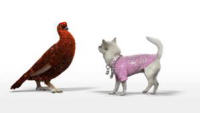 5th November 2009 - The Famous Grouse is set to launch a new TV advert this Christmas for fans of Scotland's Favourite Whisky, bringing together the brands unique blend of wit and charm. The advert isn't set to air until Monday 23rd November, and so to get your own sneak preview just click on the link: https://www.youtube.com/watch?v=4PYSTyXEyhU
This new advert contrasts the enduring fame of the brand with the superficial, fleeting fame prevalent in today's Z-list celebrity loving culture. It aims to highlight that The Famous Grouse has a real reason to be Famous; its been Scotland's No.1 selling or indeed its favourite whisky for almost 30 years.
This advert will be screened along side a selection of the brand firm favourite adverts including 'Perfectly Composed' (the one with the grouse fighting through the wind and rain!!).
The new advert is due to air first on Monday 23rd November during Midsomer Murders.
<< Back to all the latest whisky news brought to you by Planet Whiskies