Cutty Sark has launched a new limited edition blend – Tam o'Shanter Scotch Whisky
Published Date: 26th Janaury 2012
Cutty Sark, the pioneering Scotch whisky brand, has launched a new limited edition blend this month exploring the origins of the whisky's unique name, which was originally inspired by the famous clipper now resting in Greenwich, London.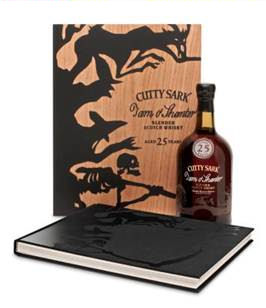 Cutty Sark Tam o'Shanter Blended Scotch Whisky (ABV 46.5%) is the first expression created by Cutty Sark Master Blender Kirsteen Campbell, and is a development of the acclaimed Cutty Sark 25 year old (Gold – Best in Class, International Wine and Spirit Competition 2011) with a distinctly darker, wilder side perfectly reflecting the world famous Burns poem.
The name 'Cutty Sark' was selected by the builders of the famous clipper from the poem Tam o'Shanter, penned by Robert Burns in 1791. The tale, recently revealed as Scotland's favourite Burns poem*, tells the story of an Ayrshire man, Tam, who when riding home from the pub one evening happens across a gathering of witches and warlocks. One of the witches, Nannie, who is described to be wearing a short shirt, or 'Cutty Sark', chases after Tam, but only manages to catch the tail of his horse before he makes his escape.
The bottle itself features a scene from the poem etched around the entire bottle, as well as a wax closure showing Tam's face. The designs are inspired by the late Alexander Goudie, one of Scotland's finest figurative painters. The bottle is presented in a stunning bespoke oak gift box also decorated in the style of Goudie. It also contains a 134-page book which tells the Tam o' Shanter story through over 50 illustrated scenes by Goudie, bringing Tam's story to life in a distinctive and dramatic style.
Jason Craig, Brand Controller, Cutty Sark Blended Scotch Whisky, stated "Our Tam o'Shanter bottling is an exploration of the Cutty Sark brand's fascinating heritage, and tells the story of how our whisky got its name. Our Master Blender Kirsteen Campbell has brought a darker, wilder edge to our award winning 25 year old blend, echoing the sinister imagery of the Goudie artwork adorning the bespoke gift box and bottle, which stays true to the adventurous spirit of the Cutty Sark brand."
Only 5,000 bottles of this new blend have been created. It is available from The Whisky Shop, The Whisky Exchange and Gleneagles priced at £199 (RRP). It can also be enjoyed by the dram at Gleneagles.
Cutty Sark Blended Scotch Whisky was first created in London 1923 and relaunched in the UK in 2010. This lighter blend is a versatile whisky and makes a perfect base for long mixed drinks. For more information on Cutty Sark Blended Scotch Whisky please visit www.cutty-sark.com.
<<To see the history and buy whiskies from Chivas Brothers
<< Back to all the latest whisky news brought to you by Planet Whiskies