Latest Whisky News - Ann Miller awarded whisky festival ambassador of the year 2009 - 12th October 2009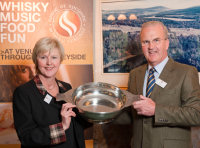 12.10.09 - Chivas Brothers, the Scotch whisky and premium gin business of Pernod Ricard is celebrating another Spirit of Speyside achievement with the news that their International Brand Ambassador Ann Miller has been named the whisky festival's Ambassador of the Year 2009.
Miller was recognised for her commitment to the Festival since its inception over ten years ago, including planning and organising the Grand Finale Homecoming Music Event in Aberlour, which was attended by more than 1,200 guests during the Festival.
Pictured: Jim Royan, Festival Chairman presenting Ann Miller with the Spirit of Speyside Whisky Festival Quaich at the Festival's Annual General Meeting, Knockando Distillery on 2nd October 2009.
<< Back to all the latest whisky news brought to you by Planet Whiskies