Bimber Distillery adds two new releases to its Small Batch collection. Batch 002 of Ex-bourbon Oak Casks and Batch 003 of Oloroso Cask
Published Date: 24th November 2020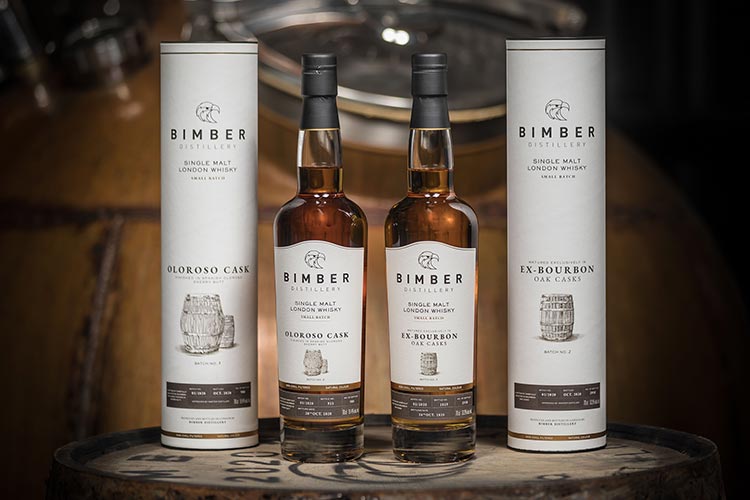 Batch 002 of Ex-bourbon Oak Casks and Batch 003 of Oloroso Cask will be available to order directly from the distillery from Wednesday 25th November
Latest Small Batch releases have been produced to meet growing global demand for the London-based distillery's single malt whiskies
Bimber Distillery today announced the upcoming release of two new batches from its popular range of Small Batch single malt whiskies. The Ex-bourbon Oak Casks Small Batch single malt has been crafted from a vatting of carefully selected American Oak ex-bourbon casks laid down in 2016 - Bimber's first year of production. Batch 002 is bottled at 52.2% ABV, limited to 2950 bottles and will be available at an RRP of £65.
Oloroso Cask Small Batch has been produced from a vatting of 1st fill ex-bourbon casks that have been finished in Spanish oloroso sherry casks. Batch 003 is bottled at 51.4% ABV, limited to 980 and will be available at an RRP of £75.
Whilst the cask composition of both new bottlings remains the same as previous batches, the taste profile of each instalment changes as the distillery's stock continues to mature. As such, each subsequent Small Batch release offers a deeper understanding into the continued progression and versatility of Bimber's characterful spirit.
Speaking of the new Small Batch releases, Bimber spokesperson Matt McKay said: "We're thrilled to close out what has been a tremendous year for Bimber with the release of two new bottlings from our popular Small Batch range. The newest editions of our Ex-bourbon Oak Casks and Oloroso Cask Small Batch expressions offer existing Bimber drinkers a continued insight into the development of our maturing stock. But at the same time, they also provide those newer to Bimber with a perfect entry point to our range."
He added: "Despite the tests and trials of the last nine months we've seen the demand for our products grow exponentially. There's a real thirst for Bimber and the team is working hard to quench the continued global demand for our single malt whiskies."
Both of the new Small Batch expressions were crafted to Bimber's exacting standards. The spirit was produced from the distillery's single farm barley and malted on a dedicated floor at Warminster Maltings before being fermented for seven days in bespoke, on-site constructed American oak washbacks. Distillation took place in Bimber's customised stills which possess an increased copper surface area, which results in a light, fruit-forward, layered new make spirit.
Tasting Notes
Bimber Ex-Bourbon Oak Casks Small Batch 002
A vatting of American Oak ex-bourbon casks
Nose: Bright and elegant fruits – ripe apples together with apricots and peach melba. Split vanilla pod and sponge fingers are joined by coconut shavings and freshly toasted bread
Taste: Fruit-forward and with a delightfully syrupy body. Apricot halves and fresh peaches are perfectly balanced against vanilla-imbued crème patisserie and elegant peppery spiciness.
Finish: Lingering stone fruit sweetness and enduring spice
Bimber Oloroso Oak Casks Small Batch 003
Matured in 1st fill ex-bourbon barrels, then finished in casks which previously held Spanish Oloroso sherry.
Nose: Cinnamon rolls, freshly baked waffles and sweet buns sit with fresh and dried red berries whilst stem ginger is tempered by vanilla cream and lemon posset
Taste: Elegantly textured and with plentiful rich sherried notes – bright red berries, chopped bananas and chocolate-dipped walnuts. Golden syrup and pineapple chunks join cinnamon dusting and scorched orange peels.
Finish: Sustained refined spicing alongside receding sweet sherry
More Whisky News
Distillery of the Month: November 2023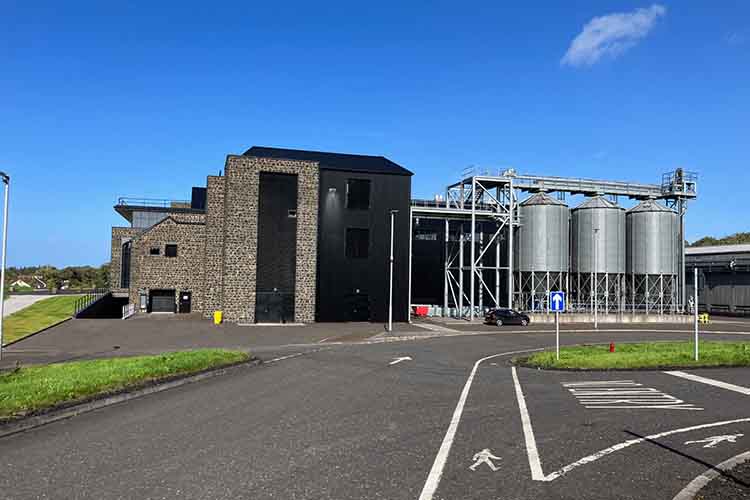 Planet Whiskies visited the new Bushmills Distillery in Northern Ireland on the 25th and 26th of September. Read our review of the experience of Bushmills and Northern Ireland at Planet Whiskies tour of Bushmills and Northern Ireland
You can also read the whole section about Bushmills Distillery at Bushmills Distillery Information on Planet Whiskies... So Bushmills is Planet Whiskies Distillery of the Month title for November 2023
Get Newsletter
Subscribe to our newsletter to get latest news, popular news and exclusive updates.