Benromach adds Cask Strength Vintage 2008 limited batch release to its Classic Range
New Benromach limited batch release to be available across multiple international markets
Published Date: 26th April 2019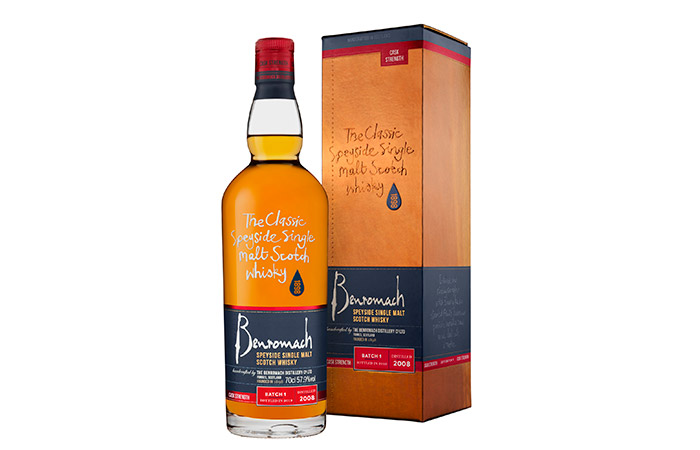 Family owned Benromach Distillery has announced a new addition to its Classic Range, Benromach Cask Strength Vintage 2008 Batch 1, a rich and full-bodied, limited-batch single malt whisky.
The batch release which will be sold across multiple international markets, was matured in First-Fill Sherry and Bourbon casks. Just 5,500 bottles will be available to purchase worldwide from 24th April 2019*.
Laid down in 2008 before being bottled in 2019, Benromach Cask Strength Vintage 2008 is a 10-year- old whisky. The golden amber dram has notes of cracked black pepper, fruits and milk chocolate, with a delicate smoky edge on the palate. The whisky has a long, deep finish with subtle smokiness and bonfire embers.
Bottled at cask strength (57.9% ABV), Benromach Cask Strength Vintage 2008 Batch 1 will replace Benromach 100° Proof in the Classic Range. The new expression will provide single malt Scotch whisky fans with subtle variations on the flavour profile of Benromach 100° Proof with small strength and natural colour variations reflecting different batches.
Keith Cruickshank, Benromach Distillery Manager, said: "By offering the opportunity to own and enjoy batch releases, we are able to further showcase the expertise of our distilling team while determining the right time to bottle each batch to take full advantage of the remarkable single malt whiskies we produce. We believe this expression will allow Benromach drinkers to understand more about the provenance of the whisky they are drinking.
"Every whisky we release has been carefully handcrafted by our close-knit team of distillers. While retaining the overall flavours that Benromach consumers have enjoyed in Benromach 100° Proof, the new Cask Strength Vintage release will differ subtly in both strength and flavour profile, reflecting the specific casks chosen from the vintage year."
Benromach Cask Strength Vintage 2008 Batch 1 is presented in an elegant bottle with shapes and textures inspired by the Speyside distillery. The copper cut medallion on the packaging signifies the moment in time when the distillers cut to the sweet heart of the spirit run. Each bottle will detail the vintage year, batch number and age.
Benromach Cask Strength Vintage 2008 Batch 1 will be available in selected markets worldwide with a recommended retail price (RRP) of €69.95 (£59.95). Prices in local markets may vary depending on local taxes and duty.*
Benromach is one of only a few distilleries in Scotland to use traditional methods, without any automated machinery. The small team of distillers employ all their senses when crafting the classic Speyside single malt Scotch whiskies, managing the process by sight, sound and touch to create the unique, handcrafted and authentic Benromach taste.
For more information on Benromach single malt Scotch whisky, and to explore the Classic Range, please visit: www.benromach.com.
*Cask Strength Vintage 2008 Batch 1 will be available worldwide with the exception of China and the US. These countries will receive Cask Strength Vintage market exclusives later this year.
<< View more from the Benromach Range of Single Malts Whiskies
<< View Scottish Single Malts on Planet Whiskies
<< Back to all the latest whisky news brought to you by Planet Whiskies
Distillery of the Month: November 2023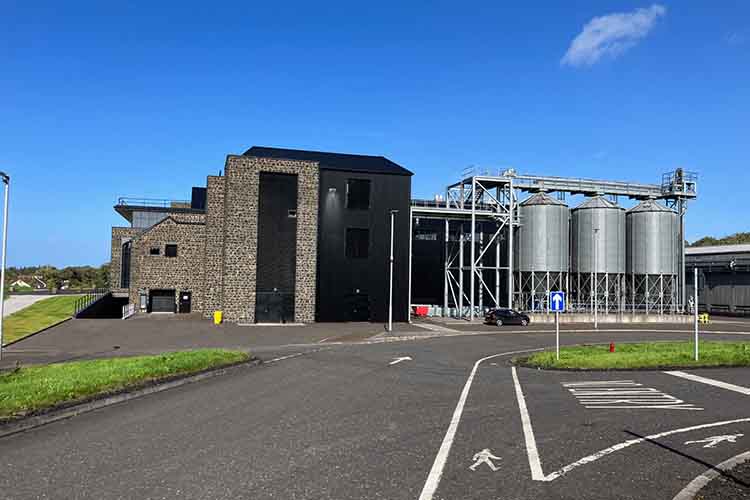 Planet Whiskies visited the new Bushmills Distillery in Northern Ireland on the 25th and 26th of September. Read our review of the experience of Bushmills and Northern Ireland at Planet Whiskies tour of Bushmills and Northern Ireland
You can also read the whole section about Bushmills Distillery at Bushmills Distillery Information on Planet Whiskies... So Bushmills is Planet Whiskies Distillery of the Month title for November 2023
Get Newsletter
Subscribe to our newsletter to get latest news, popular news and exclusive updates.