Glen Scotia unveils new 30 Year Old with stunning collection of packaging designs from artist, Alice Angus
Published Date: 24th July 2023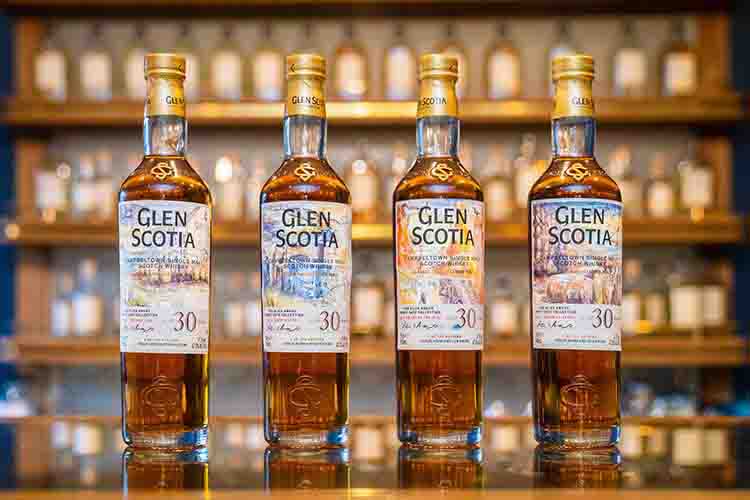 Glen Scotia has unveiled a remarkable new 30 Year Old single malt (non-chill filtered, 47.3% ABV, RRP: £2,000), which is being released as part of its new 'Spirit Safe' collection with the distillery's artist-in-residence, Alice Angus.
The collection continues the partnership with the Scottish artist who initially spent several months in Campbeltown sketching and painting the magic of the distillery and its surrounding environment, before curating four incredible artworks.
For the first time, these four works will be presented on a highly limited run of 120 premium display boxes and bottle labels, giving consumers a chance to own a piece of this collaboration, and a very special and rare Glen Scotia single malt whisky.
Matured in European oak casks, the whisky has thick perfumed floral notes of violet and lavender, which intertwine with sea spray. On the palate, there are hints of fresh green apple and silky pear followed by ginger and dark chocolate before a long finish with a roasted sugar sweetness.
The liquid would have initially been laid down in 1989 – a year that marked the reopening of the Glen Scotia distillery following a five-year pause in production, a change of ownership, and renovations to serve a remerging global demand for whisky. It was a brief chapter in the distillery's history, with very few precious casks remaining from this decade.
The casks remained under the watchful eye of the distillery team, and the Spirit Safe collection pays homage to Glen Scotia's enduring history, craftsmanship and traditional equipment through the ages.
The stories have been immortalised in each of the four-pack designs, which include: First Water, Heart of the Run, Labour of Years, Time and Tide.
Iain McAlister, Distillery Manager and Master Distiller at Glen Scotia, said: "This is a remarkable launch for us – not only are we unveiling a very special highly limited 30-Year-Old single malt whisky, but also this stunning packaging from our artist-in-residence and friend, Alice Angus. Her artworks are a reminder of the fascinating history of Glen Scotia through the ages. Now commemorated in the Spirit Safe collection, these are a wonderful addition to any whisky enthusiast's collection.
"The liquid itself is an incredibly distinguished single malt whisky. It is intriguing to look back upon the creation and craft of a distillery team from a different era, who have created a whisky full of flavour and personality, from the freshness of the apples to the spice of the ginger, and that wonderful long, sugary and saline finish."
Alice Angus, Glen Scotia artist-in-residence, added: "My Spirit Safe series is inspired by the generations of dedicated people, the Campbeltown community, the unique landscape, the ingredients, skills, engineering, and care that goes into making Glen Scotia; and all rhythms of time across hours, years, and decades involved in its creation.
"What started as a one-off residency has grown into a longer-term partnership of new projects and exciting collaborations. Glen Scotia is a mesmerising place, and I am so grateful to the team for always making me welcome, supporting my work and sharing their stories and Knowledge. This collection is a homage to them and all that came before, and I am already looking forward to seeing where else our partnership together might go."
Glen Scotia plans to sell Alice Angus' four original artworks with profits going to various charitable causes. In the meantime, this limited edition allows a very lucky few whisky enthusiasts to own a very special piece of this collaboration and a whisky with a remarkable heritage.
The Spirit Safe collection is available now via the Glen Scotia website and specialist retailers. Presented in a rigid premium display box and premium bottle (reserved for rare and high-aged liquid), each bears gold metalware to the shoulder and Alice Angus' signature on the label and box.
More Whisky News