A Stunning Triumph For Sliabh Liag Distillers At 2019 Bartenders' Brand Awards
An Dúlamán Irish Maritime Gin scoops the coveted Gold Gin Category Champion medal and The Legendary Silkie Irish Whiskey lives up to its name with three medals
Published Date: 10th April 2019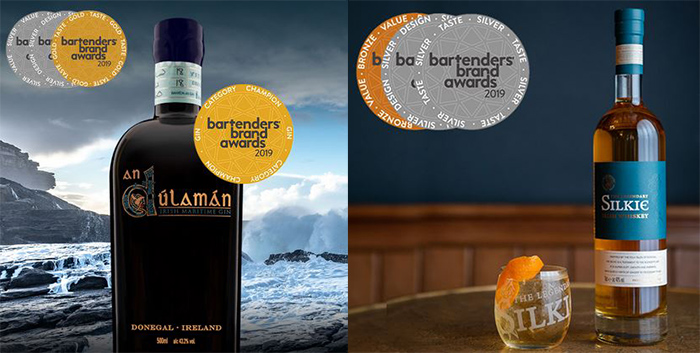 Donegal's Sliabh Liag Distillers today received the highest industry recognition from some of the most renowned names in the UK bar industry in securing the Gin Category Champion award for its An Dúlamán Irish Maritime Gin. The gin beat 64 entries from distilleries around the world to take the top spot. As well as Gold for taste, it also scooped Silver medals for Design and Value, and The Legendary Silkie Irish Whiskey from the distiller is lauded with Silver medals for Design and Taste and a Bronze for Value.
The Bartenders' Brand Awards is a unique blind tasting, design and value-tested competition for spirits, wines and beers within the UK bar industry. Now in its second year, the event provides independent and honest reviews for drinks brands targeting the UK bar trade. The judging panel consists of 50 renowned bartenders from some of the world's best known bars and each product is scored on its aroma, complexity, taste and versatility in cocktails.
Commenting on the win, James Doherty, Managing Director, Sliabh Liag Distillers said, "The success of a drink product can live or die by the recommendation of bartenders, so to have come out as top dog amongst such a revered panel of experts is truly humbling. All the hard work in trailling different botanical recipes and utilising the natural produce of Donegal to maximum is all made worth while with these kinds of accolades. It's an incredibly exciting time for us right now in the planning of the new Ardara Distillery opening 2020, and this award adds to our confidence in producing great-tasting spirits from our beautifully rugged corner of Ireland."
An Dúlamán Irish Maritime Gin uses five locally harvested varieties of seaweed as well as six other botanicals to harness the 'draíocht na farraige' (the magic of the sea) to create a spirit as unique as the rugged Donegal coast itself. Inspired by its Wild Atlantic Way surroundings, the gin reflects the bounty of the landscape with its use of the tiny, shy, pepper dulse seaweed that can only be foraged at full moon when the tides reveal it.
On the palate, there is incredibly bright and soft juniper, which subsides as An Dúlamán's complexity is revealed in rich umami, brisk salt and then a buttery oyster smoothness with hints of chestnut and firm tannin. Given time, sweet notes of Turkish Delight ebb to a comforting warmth. The bottle is based upon those found along the Donegal coast after ships of the Spanish Armada were wrecked upon the rocks.
The legendary Silkie blended Irish whiskey is made from a blend of carefully selected malt and grain whiskeys. By using a higher aged-malt percentage – with malts aged up to eight years and finished in oak casks formerly used to mature sherry – Sliabh Liag Distillers is able to produce a signature-smooth mouth feel and silken, easy character.
On the nose, Silkie evokes brisk green apples opening to a more honeyed butteryness. On the palate, it suggests orange zest, digestive biscuits and stem ginger, all with the signature smoothness. The rich, sweet taste provides a sublimely gentle finish.
<< View Scottish Single Malts on Planet Whiskies
<< Back to all the latest whisky news brought to you by Planet Whiskies
Distillery of the Month: November 2023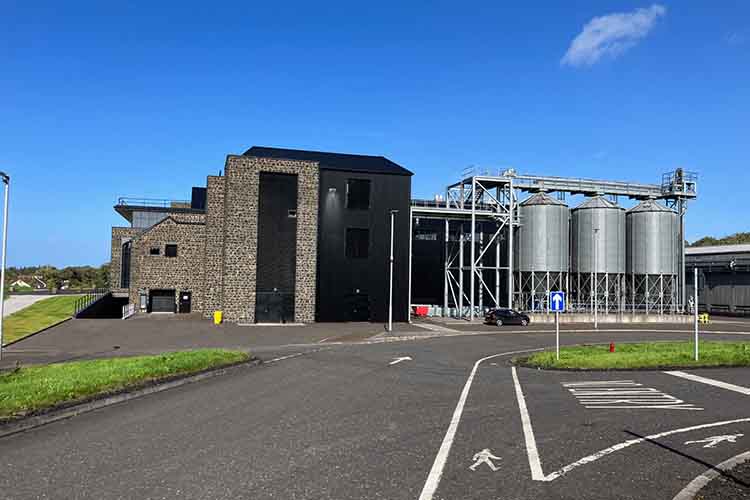 Planet Whiskies visited the new Bushmills Distillery in Northern Ireland on the 25th and 26th of September. Read our review of the experience of Bushmills and Northern Ireland at Planet Whiskies tour of Bushmills and Northern Ireland
You can also read the whole section about Bushmills Distillery at Bushmills Distillery Information on Planet Whiskies... So Bushmills is Planet Whiskies Distillery of the Month title for November 2023
Get Newsletter
Subscribe to our newsletter to get latest news, popular news and exclusive updates.