William Grant & Sons Named Official Spirits & Champagne Tournament Provider Of Rugby World Cup 2015
Published Date: 2nd July 2015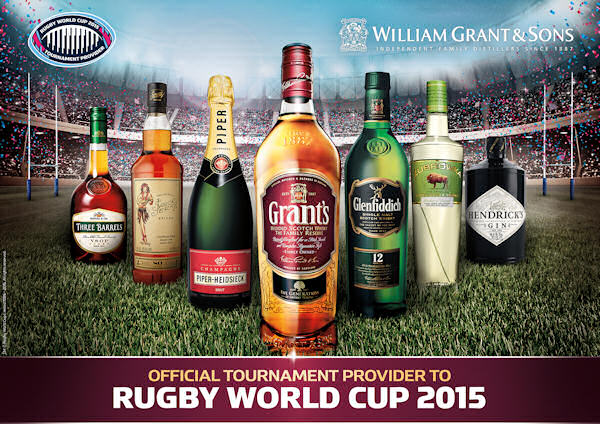 2 July 2015, LONDON: William Grant & Sons is proud to announce it is the Official Spirits & Champagne Tournament Provider of Rugby World Cup 2015. This partnership will mean William Grant & Sons' UK portfolio of premium brands including Grant's, Piper-Heidsieck, Glenfiddich, Hendrick's, Sailor Jerry and Zubrowka will have exclusive pouring rights at all Rugby World Cup 2015 stadiums. William Grant & Sons will also have access to highly coveted tickets to every match. 
This is the first time that family owned, independent distiller William Grant & Sons has partnered with Rugby's showcase event, due to take place between September 18th and October 31st 2015. The Tournament brings together 20 nations, participating in 48 matches, across 13 stadiums.  
During Rugby World Cup 2015, William Grant & Sons brands will be undertaking a range of activities to engage fans and will be offering once in a lifetime opportunities to attend matches.  
Gary Keogh, Marketing Director, William Grant & Sons UK said: "We are incredibly excited about our association with Rugby World Cup 2015. This Tournament is one of the world's greatest sporting events and we're looking forward to engaging millions of rugby fans with our portfolio of brands in and around match venues, at a bar or at home." 
This partnership allows William Grant & Sons the opportunity to reach a discerning audience who appreciate premium spirits and value memorable experiences. 
With England 2015 on track to be the biggest and most viewed Rugby World Cup to date, engaging new and existing audiences, this showcase event is set to deliver an unparalleled platform to project the sport, its unifying values and is a perfect fit for William Grant & Sons' portfolio of brands. 
World Rugby Chief Executive Brett Gosper said: "We are delighted to welcome another brand sector leader to the international family of Rugby World Cup 2015 commercial partners. The appointment of a company with strong values and globally-renowned brands as Official Spirits and Champagne Provider further underscores the prestige of our showcase event.  
"With 78 days to go, we are confident that England 2015 will be a wonderful and truly global celebration of rugby and friendship and we look forward to welcoming the world to Rugby World Cup 2015."