Wild Turkey® Opens State-Of-The-Art Visitor Centre For Kentucky Bourbon Trail®
Grand Opening Celebration Marks Master Distiller Jimmy Russell's 60th Year of Service
Published Date: 15th April 2014

LAWRENCEBURG, KY (April 15, 2014) – Perched high on a hill 275 feet above the Kentucky River sits a shining beacon for the iconic Wild Turkey Distillery® – a new, 9,140-square-foot, state-of-the-art Visitor Centre. Officially open to the whiskey-drinking public today, the breathtaking structure stands as an architectural feat in this small pocket of Bourbon country and caps off a more than $100 million investment by Gruppo Campari to thoroughly modernize and expand the distillery experience.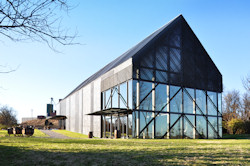 The grand opening of the Visitor Centre, attended by Commonwealth of Kentucky Governor Beshear and other dignitaries, also coincides with the announcement that Wild Turkey officially declares 2014 the "Year of Jimmy Russell" in honor of his landmark 60th year of service.
Jean Jacques Dubau, President and CEO of Campari America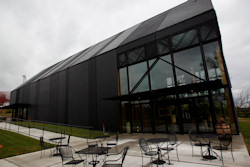 "Last year, our Visitor Centre was housed in a tiny 1,000-square-foot house from the 1800s and we still saw a 16 percent spike in visitors to Wild Turkey Hill," said Jean Jacques Dubau, President and CEO of Campari America. "With our gleaming, new architectural masterpiece, we finally have a Visitor Centre worthy of Wild Turkey's legacy, as well as an outstanding calling card for Kentucky's Bourbon industry. Today's celebration is the proverbial feather in the cap of Gruppo Campari's more than $100 million investment in Wild Turkey and the Commonwealth of Kentucky."
"After several years of production-specific upgrades and financial stimulus that have provided an economic boost to this county and beyond, the introduction of this Visitor Centre is the crowning achievement for Wild Turkey and Gruppo Campari," said Kentucky Gov. Steve Beshear. "As we continue to elevate awareness for our bourbon culture, we look forward to welcoming our fellow Kentuckians, Americans and visitors from abroad to the Wild Turkey distillery and the entire Kentucky Bourbon Trail®."
Visitor Centre Experience from A to Z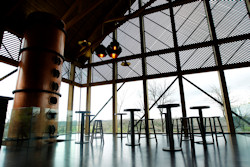 Designed as the architectural and spiritual centrepiece for the whiskey, which has more than a 100-year legacy on Wild Turkey Hill, the Visitor Centre is a mecca for bourbon lovers and Wild Turkey fans across the globe. As the only destination on the Kentucky Bourbon Trail offering full visibility and complete access to the art and science of making Bourbon, the distillery expects to welcome approximately 80,000 guests this year, up from the previous 62,000 in 2013.
With stunning views that inspire and delight, the structure features a mélange of natural wood materials, including Rough-cut Ash, Cypress, Douglas Fir, Yellow Pine and American White Oak, that seamlessly blends into its environment. As a clever nod to the brand's beloved turkey icon, the exterior wood siding pattern was inspired by the display plumage of a wild turkey, while the vegetation surrounding the building is part of a wild turkey's natural habitat. Massive glass windows peer down on the majestic Kentucky River, giving visitors a chance to drink in the Commonwealth's spectacular beauty, while also sampling some of the world's finest whiskies. The wood, steel and glass structure was the brainchild of De Leon & Primmer Architecture Workshop, a Louisville, Kentucky-based firm selected to helm the project.
From portfolio tastings in the Angel's Share room to the Wild Turkey Wall of Fame, guests can sip and savor Bourbon seven days a week while receiving an historical indoctrination into one of the oldest distillery operations in Kentucky. Exclusive keepsakes in the gift shop include recent, limited-edition products allowing visitors to bring a taste of Kentucky home with them wherever they may live.
The Year of Jimmy Russell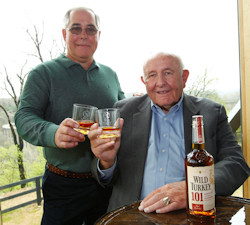 Dubbed the "Master Distiller's Master Distiller" and the "Buddha of Bourbon" by his bourbon-making peers, Bourbon Hall of Famer Jimmy Russell is a living legend among the Kentucky distilling community for his uncompromised approach to his craft. Marking 60 years in the industry this year, the integrity he has brought to the bourbon trade remains unparalleled and is reflected in every bottle of Wild Turkey.
No other American Master Distiller in history has reached such a milestone, hence the reason the brand is declaring 2014 "The Year of Jimmy Russell." Jimmy stands as the longest-serving, active Master Distiller of a major whiskey brand in not just Kentucky, but all of North America.
To honor his father and their dynamic personal and professional relationship, Eddie Russell, an inductee into the Kentucky Bourbon Hall of Fame himself, created a special limited-edition mingling of 13- and 16-year-old whiskies, aptly called Wild Turkey Diamond Anniversary. While the whiskey would certainly complement any classic cocktail requiring Bourbon, Eddie's serving suggestion for Diamond Anniversary is neat or with a little water – just the way Jimmy has enjoyed Wild Turkey for the last six decades. Available exclusively in the US, UK residents will need to travel the trail to try the Wild Turkey Diamond Anniversary Edition, which has an RRP of $124.99.
<< Back to all the latest whisky news brought to you by Planet Whiskies
Distillery of the Month: November 2023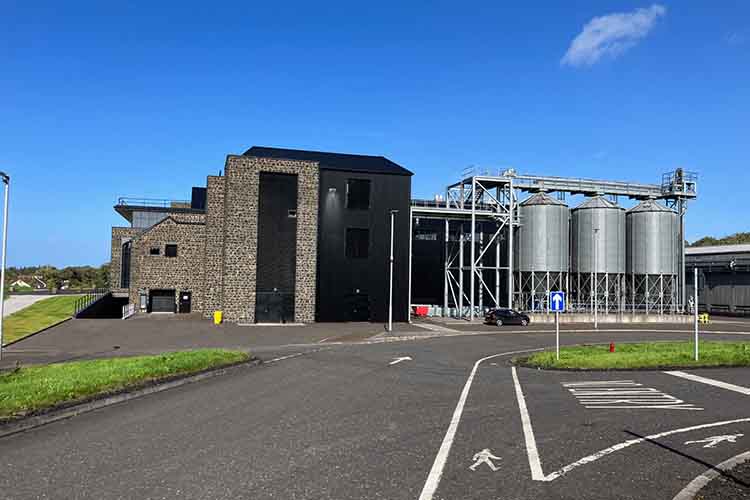 Planet Whiskies visited the new Bushmills Distillery in Northern Ireland on the 25th and 26th of September. Read our review of the experience of Bushmills and Northern Ireland at Planet Whiskies tour of Bushmills and Northern Ireland
You can also read the whole section about Bushmills Distillery at Bushmills Distillery Information on Planet Whiskies... So Bushmills is Planet Whiskies Distillery of the Month title for November 2023
Get Newsletter
Subscribe to our newsletter to get latest news, popular news and exclusive updates.