Latest Whisky News -The Macallan Single Malt Whisky
THE MACALLAN UNVEILS GOLD - The first release from The Macallan 1824 Series - 100% Sherry Casks, 100% Natural Colour, 100% The Macallan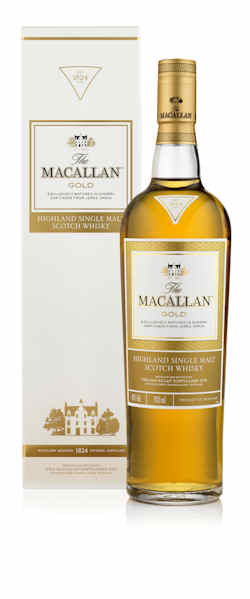 Luxury single malt whisky brand, The Macallan distributed by Maxxium UK, has unveiled The Macallan Gold, the first expression in The 1824 Series. Exclusive to the UK*, the new bottling celebrates two of The Macallan's greatest strengths; oak sherry casks and natural colour.
Matured in sherry seasoned oak casks The Macallan Gold offers a lemon citrus nose accompanied by orange peel and sweetness that softens but doesn't eliminate the zest. Burnished gold in colour the single malt has notes of vanilla followed by dark chocolate, with lingering floral and light oak notes.
Bob Dalgarno, The Macallan Whisky Maker commented: "Using colour to drive and define a whisky differs dramatically from the conventional age approach, creating The Macallan Gold allowed us to explore different casks and base our choices on aromas and flavours. The palate is ruled by citrus and boiled sweets along with hints of ginger and cinnamon, while soft oak notes reveal toasted apples. We have been able to work creatively with the full range of matured stock available, rather than working to a pre-determined character based on age."
Alongside Gold, The 1824 Series will also include three further expressions, Amber, Sienna and Ruby, to be launched in Spring 2013. Like Gold, all names reflect the actual colour of the whiskies in the range, but also describe naturally occurring minerals and metals. Grounded in an unwavering commitment to sourcing the very best oak sherry casks, the most expensive in the industry, The 1824 Series showcases the signature style of The Macallan - embracing the defining elements which have made it one of the world's truly great single malts.
The casks chosen for the range deliver a gradation of colour from light to dark, with the wood character defining each expression's flavour, moving from lighter, lemon citrus to richer, dried fruit notes. As the whiskies become darker and richer, so the pool of casks able to deliver this character becomes smaller and rarer.
Commenting on The 1824 Series, Ken Grier, Director of Malts, Edrington, said: "As some 60% of the aroma and flavour of The Macallan derives from the oak maturation casks, this new range is a genuine opportunity to demonstrate the critical role of these exceptional casks and also to challenge perceptions about bottling at arbitrary ages. Taking colour as the basis for shaping these whiskies, an industry first, is testimony both to the innovative approach to whisky making and to the long experience of our Whisky Maker. This truly is Bob's work at its very best."
The Macallan Gold will be available at all good whisky specialists, wholesalers and selected multiple grocers from 1st October, and online for UK customers at www.themacallan.com at a price of £36.
Peter Sandstrom, Marketing Director, Maxxium UK said: "The Macallan 1824 Series is the perfect combination of two of the most influential factors which make this single malt whisky amongst the most distinctive and desirable, namely oak sherry casks and natural colour. It is testament to our great relationship with Edrington that Maxxium UK is the first market to debut this exciting new product - The Macallan Gold."
<< View Single Malt Whiskies in The Macallan range
<< Back to all the latest whisky news brought to you by Planet Whiskies