St Columba's Hospice AOIBHINN rare whisky auction - 6th September, 2012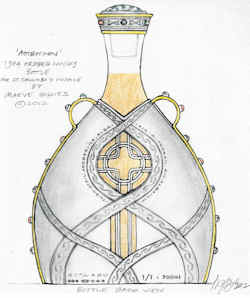 St Columba's Hospice auctions rare Single Malt Scotch whisky in unique bottle designed by Maeve Gillies

St Columba's Hospice of Edinburgh, Scotland, is delighted to announce the upcoming auction of 'AOIBHINN', an exquisite hand-crafted silver bottle containing rare Single Malt Scotch whisky.
'AOIBHINN', pronounced "ee-vin" and meaning joyful in Scottish Gaelic, is the result of a unique collaboration between New York-based award-winning Scottish jewellery designer Maeve Gillies and Ardbeg Distillery on the island of Islay.
This one-of-a-kind bottle has been created specifically for St Columba's Hospice 'Live Life Ball' auction in October, which hopes to raise funds for an essential rebuild of St Columba's Hospice in Edinburgh.
The 'AOIBHINN' bottle is created from hand-blown glass with genuine sterling silver that has been raised, chased, pierced and engraved by expert craftsmen using ancient silversmithing techniques. The edging is traditional silver gilt and stone-set with hand-carved, polished beach pebbles collected from St Columba's Bay on the island of Iona. The single green teardrop-shaped stone on the front of the bottle, suspended by the blue enamel doves of the Hospice, will be cut from a rare green Iona 'marble'.
Ardbeg Distillery was selected by Master of the Quaich and well-known whisky writer Charles MacLean - a star of Ken Loach's Cannes 2012 Palme d'Or Jury Prize winner 'The Angel's Share' - as the perfect distillery to fill such a unique Celtic-inspired bottle. The whisky, a vatting from a rare 1974 Single Malt Scotch, was personally created by Director of Distilling & Whisky Creation at The Glenmorangie Company, Dr Bill Lumsden.
The auction will take place at the St Columba's Hospice 'Live Life Ball' at The Assembly Rooms in Edinburgh on Saturday 6 October 2012. Sealed bids will be accepted in advance and anyone wishing to bid for this lot should contact Lesley Christie, the Fundraising Director at St Columba's Hospice on +44 (0)131 551 1381.
Charles Maclean commented, "Maeve's designs are just exquisite. This will be a bottle of the utmost beauty and craftsmanship, and when filled with a very rare 1974 Ardbeg makes this truly a once-in-a-lifetime opportunity for single malt whisky aficionados and collectors. Magnificent!"
Designer Maeve Gillies explains; "I was honoured to be asked to design this very important bottle. St Columba is one of Scotland's most important saints, which truly befits a unique Celtic-inspired creation. The outstanding craftsmanship and materials, unique story and content of this bottle will ensure it becomes a highly-prized possession of one lucky bidder!"
Lesley Christie, Fundraising Director, St Columba's Hospice, said: "This beautifully designed bottle, filled with rare single malt whisky, will be auctioned to raise funds for an essential rebuild of St Columba's Hospice in Edinburgh. This is without doubt one of the most exciting fundraising opportunities we have ever had. The combination of support from Maeve Gillies, a world class and award winning designer, Master of the Quaich Charles MacLean, and Ardbeg, one of Islay's best loved single malts, is absolutely unique and we are very grateful for their support".
<< Back to all the latest whisky news brought to you by Planet Whiskies
Distillery of the Month: November 2023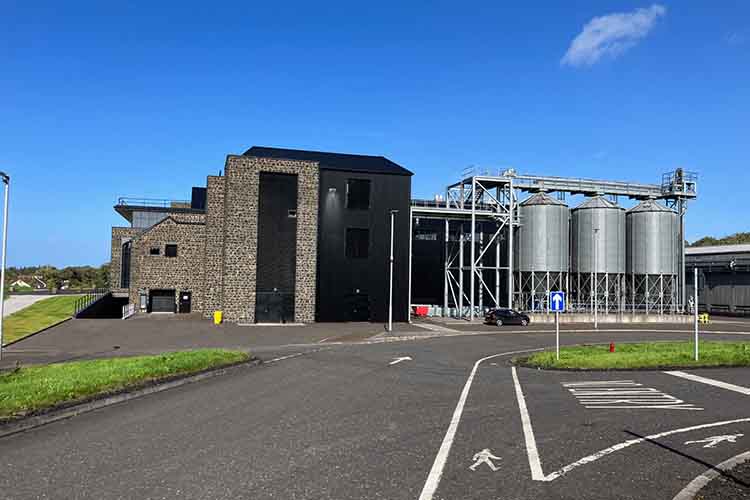 Planet Whiskies visited the new Bushmills Distillery in Northern Ireland on the 25th and 26th of September. Read our review of the experience of Bushmills and Northern Ireland at Planet Whiskies tour of Bushmills and Northern Ireland
You can also read the whole section about Bushmills Distillery at Bushmills Distillery Information on Planet Whiskies... So Bushmills is Planet Whiskies Distillery of the Month title for November 2023
Get Newsletter
Subscribe to our newsletter to get latest news, popular news and exclusive updates.