Jameson to Continue its Legendary Pace With Iron Horse TV Advertising
Published Date: 21st February 2013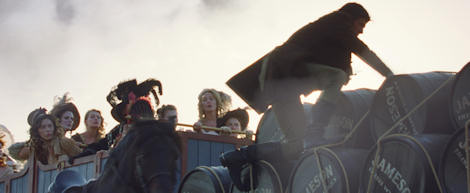 Jameson has launched the next instalment of its award-winning* advertising campaign, Legendary Tales of John Jameson, with a new TV commercial which aired for the first time in the USA this week.
The creative - entitled Iron Horse - was directed by internationally acclaimed director, John Hillcoat, whose recent film work includes Prohibition era drama, Lawless and created by advertising agency, TBWA Worldwide. The commercial continues the saga of the brand's founder, John Jameson, and his quest to protect his whiskey. In this action-packed commercial, Jameson comes face-to-face with his fiercest adversary yet – modern technology – and manages to rescue a runaway train carrying a cargo of his precious whiskey.
Howard Southern, International Marketing Director, Irish Distillers Pernod Ricard, said: "The latest TVC will act once more as a powerful tool to bring to life the legend of John Jameson for consumers. John Jameson has been a great success and we're delighted to bring consumers another exciting instalment."
Available in both 30 and 60 second spots, the commercial premiered during the NBA All Stars game on 17th February and from the 25th February, the full national TV and digital flight kicks off for three-weeks.
<< Back to all the latest new brought to you by Planet Whiskies