Isle of Arran Distillers launch exclusive small batch bottling with Royal Mile Whiskies
Published Date: 31st October 2018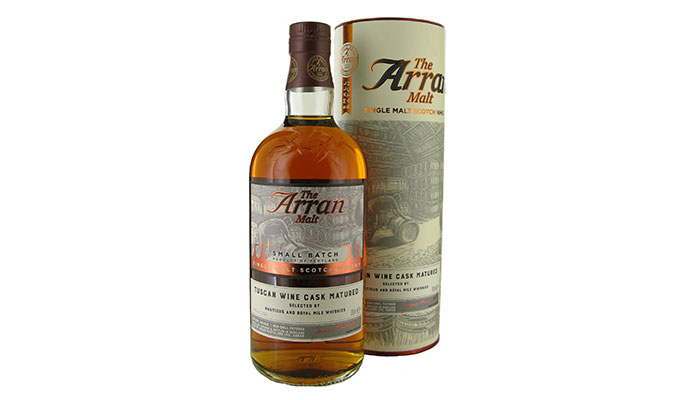 Isle of Arran Distillers Ltd have launched an exclusive whisky bottling in collaboration with Royal Mile Whiskies and Edinburgh bar Nauticus. 
The expression from the island distillers, which has been fully matured in Tuscan wine casks, is a limited edition with just 900 bottles being made available from 31st October. 
This is due to the fact that only three French oak casks, which previously held Sassicaia red wine, were filled with Arran spirit in 2008. 
The result is a whisky that remains true to The Arran Malt's traditional style, while the use of the distinctive casks impart rich flavours of spices and fruit. 
The nose has been described as 'profound and fruity with black forest gateau, cherry, dark chocolate and sticky dates' and tasting notes include 'red berry and hedgerow fruit cut through with clove and cracked black pepper'.
A special launch event at Nauticus, Leith's newest bar opened by renowned Edinburgh drinks mavericks Iain McPherson and Kyle Jamieson, allowed a select few to experience the whisky before going on sale to the public. 
The duo behind Nauticus have previously been instrumental in a number of top cocktail bars across the city, including Panda & Sons, Hoot The Redeemer, Bon Vivant and The Devil's Advocate. Their newest venture on Duke Street harks back to Leith's trading past while championing exceptional Scottish liquor and produce, including The Arran Malt.
Commenting on the release, Arthur Motley, of Royal Mile Whiskies said: "When talking about the project with the team at Nauticus, we began by looking for a high quality whisky matured exclusively in wine casks as we knew this is exactly what Leith merchants would have done centuries ago.
"We are all big fans of The Arran Single Malt so it was great news to find they had some very special stock available."
The exclusive collaboration bottling will be available to purchase through Royal Mile Whiskies, retailing at £64.95 in their Edinburgh and London shops and online at www.royalmilewhiskies.com
The Isle of Arran Distillers are currently constructing the Lagg distillery in the South of the island, which is expected to be fully operational in 2019 further increasing production capacity to 2 million litres. 
Recent developments at the new site include the delivery of copper pot stills and the completion of three warehouse buildings. 
There is the opportunity for whisky aficionados to become part of the exciting story of the Lagg Distillery, by becoming member's of the Lagg Cask Society, which includes ownership of one of the first casks to be filled at the new distillery. For more information, visit www.laggwhisky.com
<< Buy Arran Single Malts Whiskies
<< Read more about Arran Whiskies
<< View Scottish Single Malts on Planet Whiskies
<< Back to all the latest whisky news brought to you by Planet Whiskies