Irish Distillers: Midleton launches exclisive single pot still single cask whiskey
Published Date: 12th February 2013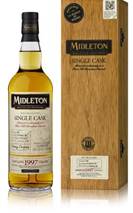 Irish Distillers Ltd has reinforced its commitment to rejuvenating the Single Pot Still whiskey style with the release of ten exclusive Single Pot Still single cask whiskeys under the celebrated Midleton brand.
The new expressions highlight the complexity, elegance and balance associated with the Midleton range and have been released exclusively to key accounts in Ireland, France, Germany and the UK.
The new releases follow the launch of Irish Distillers Ltd's first Single Pot Still single cask customer exclusive at the Celtic Whisky Shop, in November 2010, which saw the retailer sell out of its limited bottle. This success has led Irish Distillers Ltd to extend the initiative to six retailers across Europe and now also includes James Fox Cigar and Whiskey Store, Dublin Airport, La Maison du Whisky, Irisch Lifestyle and The Whisky Exchange. Each retailer is offering their customers between one and three expressions bearing the name of the retailer, the cask number and the Midleton brand name.
Each bottling has been matured in ex-bourbon casks, true to the Midleton style, which have been charred and seasoned with bourbon. The individual casks, which were laid down between 1991 and 1999, have yielded, on average, 185 bottles – making the range highly collectable. Each expression is presented in a premium bottle, following the same design cues as Midleton Very Rare, the most exclusive whiskey produced at The Midleton Distillery.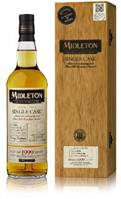 Casks #7102 and #53735 are exclusive to La Maison du Whisky in Paris and illustrate the individuality of the Midleton Single Pot Still single cask releases. Bonded in 1999, cask #53735 has a light Single Pot Still style with a nose of delicate spice, perfumed rose petal with a touch of garden mint, while cask #7102, bonded two years earlier, is an example of the heavier Single Pot Still style with a balanced nose of spices, herbs and wood. Each of the ten expressions enjoys a long finish, which is typical of the Midleton range.
Barry Crockett, Master Distiller at Midleton Distillery, says: "The Midleton brand name is synonymous with excellence in craftsmanship and the extension of the Single Pot Still single cask releases has allowed us to further showcase the quality of the Single Pot Still style to whiskey connoisseurs, who eagerly anticipate opportunities to taste Midleton whiskeys. The response to the release of cask #71578 in 2010 was phenomenal, so I anticipate a similar reaction this year and look forward to discussing each cask with Single Pot Still whiskey advocates."
The Irish whiskey category has experienced a near 8% compound annual growth rate between 2005-2010 and its annual 4.9m case sales is expected to reach 7.9m cases by 2016*. Category growth has been boosted with a resurgence in the popularity of the Single Pot Still Irish whiskey style, led by Irish Distillers Ltd. In 2012, work began on a €200 million expansion of Midleton Distillery, significantly increasing its production capability and capacity.
<< Back to all the latest whisky news brought to you by Planet Whiskies