Glenfiddich launches new limited edition expression finished in ice wine - Winter Storm: 21st September, 2017
Published Date: 21st September 2017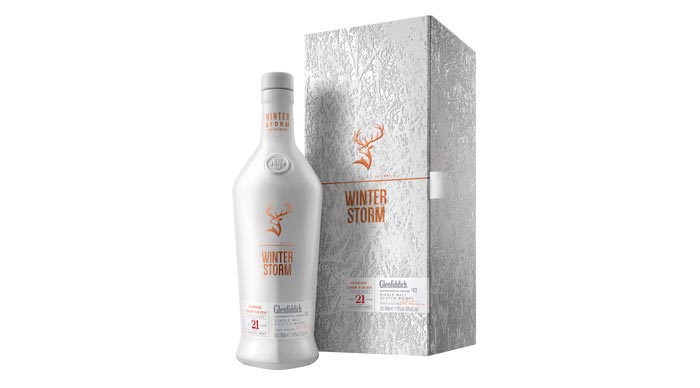 21st September 2017, London: Glenfiddich, the world's most awarded single malt Scotch, today launches Glenfiddich Winter Storm, a limited edition whisky finished in Ice wine casks. The result is a short, crisp premium liquid imbued with a unique layer of sweetness and complexity.    
Glenfiddich's Malt Master, Brian Kinsman, is always pursuing ingenious innovations in Scotch whisky. This latest expression comes as a result of a trip to Canada in January 2016, during which he visited Peller Estate - a renowned winery in Niagara. Enduring freezing weather, Brian toured the beautiful vineyards, where he learned how the grapes had to be picked by moonlight at -10˚C when they were as hard as pebbles.  
Inspired by his experience, Brian returned to The Glenfiddich Distillery in Dufftown, where he started experimenting with several French oak Ice wine casks from the Canadian winery - filling them with various Glenfiddich aged malts for up to six months. Brian commented, "Only the rarer whiskies, those aged for 21 years, could cope with the extra Ice wine intensity. Having more tannins, extracted from years in oak, these malts brought out a uniquely fresh lychee note instead of being swamped by sweetness." What resulted, was a perfect Glenfiddich 21 year old. The combination of pioneering liquids, the heightened candied sweets and oakiness of Glenfiddich are complemented by mouth-watering tropical fruit notes and underlying wine notes.  
Peller Estates VP of Winemaking, Craig McDonald added: "It was a privilege to work with Brian on this experiment. We go to extreme lengths to produce our intensely sweet Ice wine and are always looking for ways to push the boundaries of taste, so I was intrigued to see how it could be used to create a new unexpected whisky. The resulting liquid is a unique combination of the warming soul of whisky and the frozen cold of Ice wine".  
Gwilym Cooke, Senior Brand Manager Glenfiddich UK commented: "Following the successful launch of Glenfiddich's Experimental Series last year, we're delighted to introduce the eagerly anticipated Winter Storm, an expression that challenges traditional Scotch whisky boundaries with a radically different taste and look." 
Glenfiddich Winter Storm is the newest expression in the Glenfiddich Experimential Series line up, joining Glenfiddich IPA Experiment and Glenfiddich Project XX which both launched in 2016. Designed to inspire unusual and unexpected variants, Glenfiddich Experimental Series combines the brand's passion for pushing Scotch whisky boundaries and collaborating with trailblazers beyond the world of whisky. Created from partnerships and collaborations with like-minded experimenters from a wide range of different industries, Glenfiddich Experimental Series unlocks new whisky possibilities in the true spirit of experimentation.
Glenfiddich Winter Storm is available from early October, priced at a RRP of £199, at specialist whisky outlets and prestige retailers including: Harrods, Hedonism, Berry Bros & Rudd, and select on-trade outlets. With a striking white ceramic bottle and beautifully embossed presentation box, Winter Storm is a limited edition expression, and so when it's gone it's gone, just like the winter snow.   
Read more at www.glenfiddich.com/uk/
Tasting notes of Glenfiddich Experimential Series :
Glenfiddich Winter Storm #03
Nose: A bouquet of tropical fruit and candied sweets are perfectly balanced with underlying wine notes
Taste: Soft sweet notes reminiscent of candied fruit and turkish delight develop into flavours of mouth-watering lychee. The fusion of sweet flavours is soon met with a rich drying sensation from the Icewine
Finish: Short and crisp
Key notes: Lychee, sweet and tannin
ABV 43% 
The Glenfiddich Project XX #02
Colour: Deep gold
Nose: Classic Glenfiddich fruitiness with hints of apple blossom, summer fruits and ripe pear. A beautiful balance of oak with rich creamy vanilla, barley sugar and a hint of liquorice and subtle spice
Taste:A refined and balanced flavour with candy floss sweetness and a rich vanilla oakiness. Deep and mellow, the initial sweetness is complemented by unusual notes of toasted almonds, cinnamon and a hint of crisp tannin
Finish: Long lasting with a lingering sweet oakiness
ABV 47%
Non-chill filtered 
Glenfiddich IPA Experiment #01
Nose: A beautifully delicate balance of ripe green apple, William's pear and spring blossom. Aromatic hops and fresh herbs complement the characteristic Glenfiddich fruitiness and sweet, vanilla oakiness.
Taste: Vibrant with a zesty citrus note followed by soft, sweet vanilla and a hint of fresh hops
Finish: Long lasting sweetness with subtle green hops
ABV 43%
<< View more from the Glenfiddich Range
<< Read more about the Glenfiddich Distillery and more news
<< Back to all the latest new brought to you by Planet Whiskies