Glenfiddich 21 Year Old Gran Reserva unveils a vibrant new look :: 26th May, 2016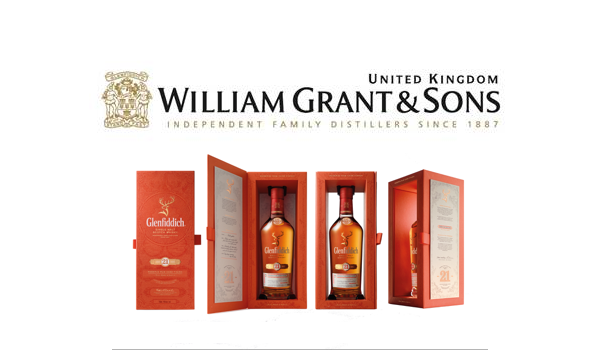 26th May 2016: William Grant & Sons UK brand, Glenfiddich, the World's Most Awarded Single Malt Scotch Whisky, will soon be unveiling a 20CL version of their exquisite Glenfiddich 21 Year Old Gran Reserva single malt along with a vibrant new look bottle.
The new look across both 20cl and 70cl bottles reflects the unique qualities of the single malt, raised in Scotland and roused in the Caribbean. Matured for 21 years in Scotland the liquid is then given a vibrant twist, by finishing in Glenfiddich's own Caribbean rum casks for four months. Encased in a re-designed richly coloured box that has been enhanced with gold foil detailing, a charcoal interior and an ornate texture using innovative finishing techniques instead of traditional printing – unusual for whisky packaging – the new look bottle is a must have for all whisky lovers.
The Glenfiddich family are perfectionists. At 21 years old their whisky is remarkable. Patiently matured for 21 years on site at the distillery in Dufftown, it is a beautiful, traditional Speyside whisky, rich and ripe with the Glenfiddich signature notes. But rather than bottle it, as other distillers would, the family gave their Malt Master, Brian Kinsman, the freedom to add a sublime finishing touch.
Kinsman finishes the single malt in bourbon barrels seasoned with Glenfiddich's own unique Caribbean rum, a secret recipe from a few topical islands that he knows will best imbue the staves with exactly the right flavours. This Caribbean rum finish awakens Glenfiddich's Scottish whisky, rousing it with extra exotic notes of ginger, fig, lime and banana with a vibrant spicy toffee warmth, elevating it from something great to something extraordinary.
"Laying this expression down for 21 years in our warehouse leads to a remarkably intense flavour, and the liquid is infused with further complexity during its final few months. The Caribbean rum finish rouses a vibrant, spicy warmth within the whisky and draws out soft yet lively fruity notes on the palate. Adding an innovative final production method is testament to Glenfiddich's continued quest for perfection. Our rum finish gives the liquid extra layers of intensity and an extraordinary twist that truly sets the 21 Year Old apart from other whiskies." Brian Kinsman, Glenfiddich's Malt Master
Glenfiddich is offering shoppers the opportunity to taste this delicious whisky, just in time for Father's Day, at Selfridge's Birmingham from May 22nd - June 19th 2016. The Glenfiddich team will be available at the bottom of the escalator in the wine and spirits department.
As Glenfiddich provide the finishing touch with everything they do, with every purchase of a Glenfiddich 21 Year Old 70CL, shoppers will receive a complimentary Aspinal of London luggage tag, worth £35, beautifully colour-matched with the new packaging. The luggage tag is also available for personalisation with initials, on the same day of purchase at the Aspinal of London concession within Selfridge's.
Twitter - @GlenfiddichSMW
Facebook – www.facebook.com/glenfiddich.official/
Instagram - @glenfiddichwhisky
Glenfiddich 21 Year Old Gran Reserva tasting notes
Tasting notes:
Colour : Dark gold
Nose:
An intense aroma sweet with vanilla, floral with hints of banana, figs, rich toffee, new leather and oak
Taste:
Initially soft, then brisk, vibrant and drying. Peppery with a touch of smoke, oak, lime, ginger and spices
Finish: 
Very long, warming, dry and spicy.
<< View more from the Glenfiddich Range
<< Read more about the Glenfiddich Distillery and more latest news
<< Back to all the latest new brought to you by Planet Whiskies
Distillery of the Month: November 2023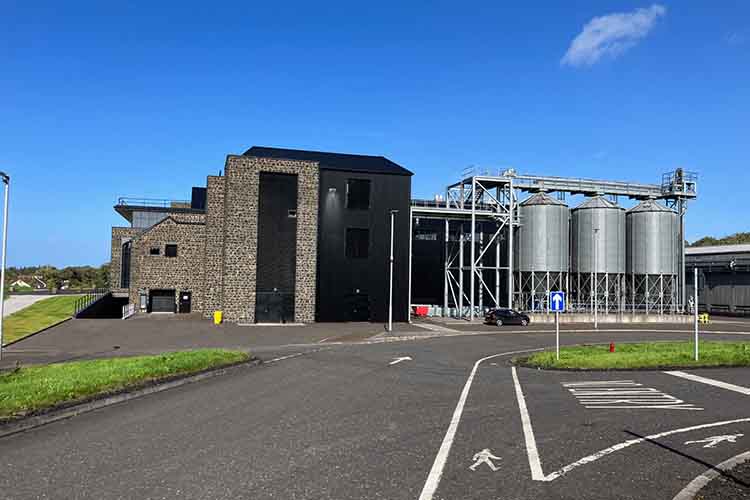 Planet Whiskies visited the new Bushmills Distillery in Northern Ireland on the 25th and 26th of September. Read our review of the experience of Bushmills and Northern Ireland at Planet Whiskies tour of Bushmills and Northern Ireland
You can also read the whole section about Bushmills Distillery at Bushmills Distillery Information on Planet Whiskies... So Bushmills is Planet Whiskies Distillery of the Month title for November 2023
Get Newsletter
Subscribe to our newsletter to get latest news, popular news and exclusive updates.