Glen Grant launches exclusive 50 Year Old Whisky - The Time has Come | 25th October, 2014
Published Date: 25th October 2014

United Kingdom, October 2014 – This year Glen Grant is releasing an exceptionally rare edition, the Glen Grant 50 Year Old – a fitting tribute to the innovation and whisky craftsmanship woven into the legend of Glen Grant.

On 28 October 1963 a rather special cask was hand filled by a young man who, at the time, was unaware that this liquid gold would ultimately shape his destiny. It would slowly mature for 50 years until 25 November 2013, when it reached its zenith – a robust, full-bodied and perfectly balanced single malt of distinction.

That young man, Dennis Malcolm, became the Master Distiller of one of Scotland's finest distilleries, Glen Grant. The cask he watched over for half a century, containing a true masterpiece, is now ready to be presented to the world – once again proving that Glen Grant excels at making single malt – from barley to bottle.

Dennis Malcolm comments, "Only time measures our pursuit of perfection. Maturation cannot be rushed. Like people, casks mature at their own pace. I have protected and cared for this barrel for 50 years, letting it breathe and patiently waiting for the magic and interaction of whisky and wood."

Only 150 bottles of this exclusive timeless collector's item will be released globally.

Each piece is unique and handcrafted in every sense – presented in a hand-blown crystal glass decanter, masterfully created and individually refined by the skilled craftsmen at Glencairn Crystal, the last family-owned crystal glass company in Scotland. Each decanter is hand engraved, hand numbered and finished with the number 50 in 18-carat gold lettering. The design of the decanter is an exact replica of Glen Grant's tall, slender pot stills – a creation of Glen Grant's legendary innovator, James 'The Major' Grant.

It is housed in a copper-lined Scottish oak box – made from new oak, worked by a skillful cabinetmaker with a practiced carpenter's hand and an astute eye for detail.

Each Glen Grant 50 Year Old comes with a certificate of authenticity, signed by Dennis Malcolm and every craftsman involved.

In an age beset by instant gratification, that which has been expertly crafted by hand – with skills honed and passed down through the ages – is a true rarity.

The Glen Grant 50 Year Old is the apotheosis of master craftsmanship: a wide array of age-old skills creating a collective masterpiece that is unquantifiable. It is both aged and timeless. But now, the time has come.

The Glen Grant 50 Year Old was launched in Asia's Travel Retail Market earlier this year, and is currently available in Hong Kong, Singapore, Seoul, Shanghai, Beijing and Taipei.

The exclusive Glen Grant 50 Year Old will be available in the UK from 27th October 2014, from The Whisky Exchange, RRP £3,500.
Tasting Notes
Glen Grant 50 Years Old Limited Edition Single Malt Scotch Whisky
(54.4% alc. Vol)
Having patiently aged in a single sherry butt for half a century, the 50 Year Old is an extremely rare, unique single malt. This robust, hand-selected single malt's appearance proudly boasts shades of rich, warm golden brown tones, reminiscent of the 50 autumns that slowly passed in the Glen Grant Victorian Gardens during its maturation. Its soft, delectable bouquet seduces the senses with alluring hints of toffee and caramel interlaced with subtle tones of sundried sultana and chewy apricot. The charming mouth-feel gently cascades on the palate with an array of sweet sherry notes infused with orange and baked apples. The perfect balance of rich and robust with smooth and soft flavours lingers in the long, full aftertaste.
| | |
| --- | --- |
| Appearance | Warm golden brown, sun-kissed tones. |
| Bouquet | Soft and delectable with alluring aroma of toffee, caramel and subtle hints of dried fruits. |
| Palate | Wonderful mouth-feel with sweet sherry notes, combined with hints of orange and baked apples. |
| Finish | Rich, robust and full yet smooth with soft lingering aftertaste. |
<< Back to all the latest new brought to you by Planet Whiskies
Distillery of the Month: November 2023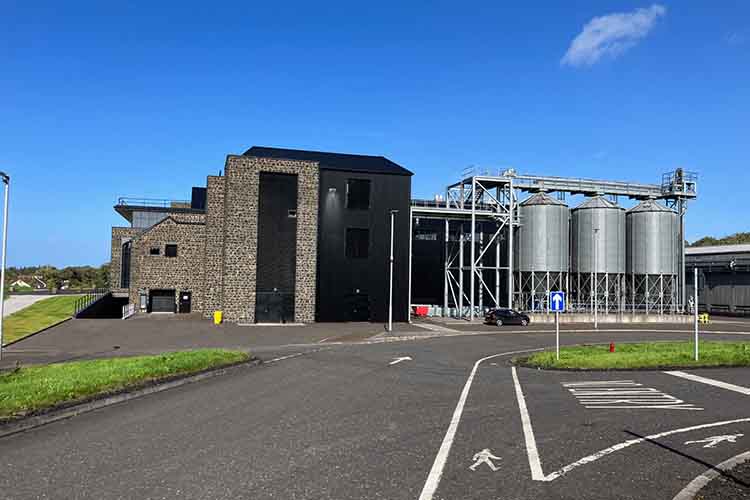 Planet Whiskies visited the new Bushmills Distillery in Northern Ireland on the 25th and 26th of September. Read our review of the experience of Bushmills and Northern Ireland at Planet Whiskies tour of Bushmills and Northern Ireland
You can also read the whole section about Bushmills Distillery at Bushmills Distillery Information on Planet Whiskies... So Bushmills is Planet Whiskies Distillery of the Month title for November 2023
Get Newsletter
Subscribe to our newsletter to get latest news, popular news and exclusive updates.