Chivas Launches Drifting Part 2. A Two-Part Short Film: 22nd February 2013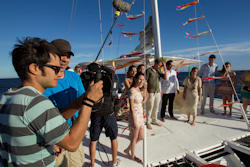 Chivas Regal, the world's original luxury whisky, has released the conclusion of Drifting, a two-part short film co-directed by Diego Luna and Gael Garcia Bernal, produced in partnership with Mexican art house film company, Canana.
Drifting Part 2 sees Garcia Bernal take over from Diego Luna as director following Luna's Drifting Part 1 film, which set up the story of three friends who reunite after having drifted apart. A practical joke in part 1 saw the friends left in a precarious situation which Bernal has to resolve in the concluding film.
Following the launch of the second instalment, Chivas is encouraging its fans to celebrate real-life friendship by taking part in an exclusive competition to win an all-expenses-paid trip for two friends to the legendary Cannes Film Festival, of which Chivas is an official sponsor, for a special screening of Drifting. The We Go Way Back photo competition asks participants to upload pictures of themselves with their best friend, showing moments of friendship and shared memories*. People can vote for their favourite submissions in the gallery showcasing entries.
James Slack, Chivas Regal Global Brand Director, says: "Drifting explores themes of trust, forgiveness and acceptance, which are integral elements to friendships and the partnership has real life friendship and collaboration at its core – from the story of Canana to the way the two directors are working together on the short. We're confident that this partnership will really resonate with modern gentlemen around the world and demonstrate how in tune Chivas is with their values and lives. We hope that with the Chivas and Canana content and our Facebook competition, we will give Chivas fans a rewarding experience."
To view Drifting and exclusive behind the scenes interviews with Diego Luna and Gael Garcia Bernal visit www.chivascanana.com
<<To see the history and buy whiskies from Chivas Brothers
<< Back to all the latest whisky news brought to you by Planet Whiskies