Ballantine's Releases Unique Blend To Mark 2013 Ballantine's Championship - 3rd April, 2013
Published Date: 3rd April 2013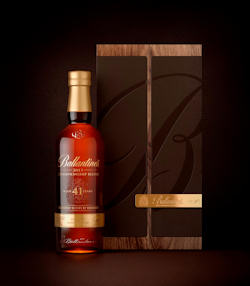 Ballantine's, the No.2 ultra-premium and Prestige Scotch whisky range in Asia-Pacific, has unveiled the 2013 Ballantine's Championship Blend after exclusively bringing together Master Blender Sandy Hyslop and winner of the 2012 Ballantine's Championship, Bernd Wiesberger, to create the sixth unique expression of the prestigious blend.
The 2013 Championship Blend has been created with a selection of exceptional whiskies, aged for at least 41 years, and is being released to commemorate this year's tournament which is taking place in Icheon, South Korea from 25 - 28 April 2013.
Just ten individually numbered bottles of this rare limited edition will be produced, with one being gifted to Wiesberger as reigning Ballantine's Championship winner and collaborator in the creation of this year's blend. A bottle will also be reserved for the 2013 champion and another will be auctioned during the tournament for charitable causes.
This exclusive and exceptional blend is presented in a prestigious bottle with a handcrafted and gold finished metal band which bears the individual bottle number alongside the signatures of its two creators, Sandy Hyslop and Bernd Wiesberger. The bottle also features Ballantine's unique crest carefully etched onto the glass, enhancing the brand's proud heritage and excellence. The bottle sits in a solid wooden cabinet with a premium leather cover featuring the iconic Ballantine's 'B' and gold coloured metal band. Interior leather panels on each of the cabinet doors, bearing a quote from Hyslop and Wiesberger, and a leather bound booklet complete the luxurious presentation of the 2013 Championship Blend, highlighting Ballantine's association with golf and the uniqueness of the blend.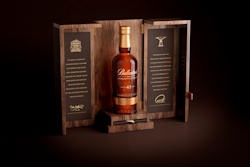 Since the inaugural event in 2008, Ballantine's has established the unique tradition of creating an exclusive Championship Blend each year, created by Master Blender Sandy Hyslop with the reigning Championship winner. Wiesberger becomes only the fourth person in history outside of Ballantine's expert blending team to be invited to work with a Master Blender in creating a Ballantine's blend, with previous winners, Lee Westwood, Graeme McDowell MBE and Marcus Fraser having been granted the same privilege over the past five years. This year, Sandy Hyslop personally guided Wiesberger through a tasting of extremely rare and high quality grain and malt whiskies to assess which flavours he preferred before carefully blending the golfer's selection.
Sandy Hyslop comments: "It was a pleasure to introduce Bernd Wiesberger to the art of blending while creating the 2013 Ballantine's Championship Blend. We've created a truly unique blend that reflects Bernd's own taste and character but is still true to Ballantine's signature style – soft, sweet, elegant and balanced. I'm delighted with the results and I believe this Championship Blend is a fitting tribute to the shared flair, craftsmanship and excellence of Ballantine's and professional golf."
Bernd Wiesberger added: "It has been a privilege and an honour to join Ballantine's Master Blender, Sandy Hyslop, in creating this special whisky. It will have a place of honour in my home, sitting alongside the Ballantine's Championship trophy until an occasion so special that I am willing to drink it."
Peter Moore, Ballantine's Global Brand Director, says: "The Ballantine's Championship Blend is a unique tradition that celebrates the shared values and heritage of Ballantine's and golf, so we are thrilled to release this year's unique expression, one of the rarest and most exclusive whiskies ever produced by our Master Blender, Sandy Hyslop. The synergy between Ballantine's and golf has never been stronger and we are extremely proud to be associated with one of the most prestigious golf events in Asia, where our sponsorship investment, both at the top of the game and at grass roots level, marks our deepening commitment to world-class golf."
Ballantine's association with golf can be traced back to 1960 when the first Ballantine's Tournament took place at Wentworth Golf Course in the UK. Since Ballantine's became the title sponsor of the Championship in 2008, many professional golfers have demonstrated their world-class talents at the Ballantine's Championship and the event has fast become one of Asia's most prestigious golfing events, with over 45,000 spectators in 2012 and coverage broadcast to 300 million homes worldwide.
Read more at www.ballantines.com
<< Back to all the latest whisky news brought to you by Planet Whiskies
Distillery of the Month: November 2023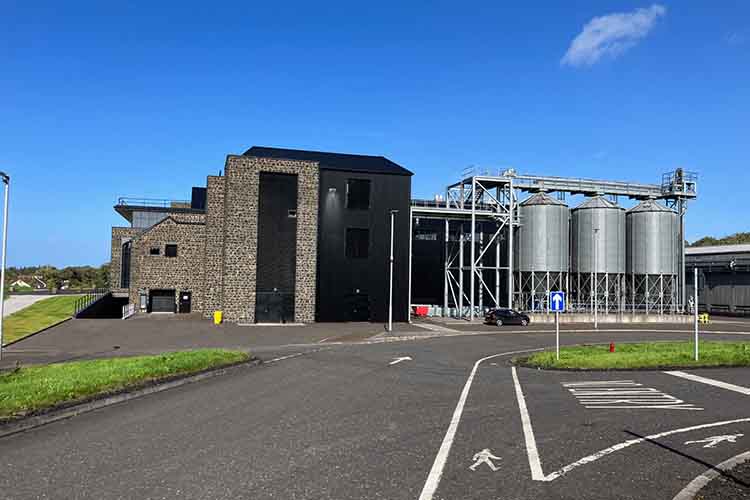 Planet Whiskies visited the new Bushmills Distillery in Northern Ireland on the 25th and 26th of September. Read our review of the experience of Bushmills and Northern Ireland at Planet Whiskies tour of Bushmills and Northern Ireland
You can also read the whole section about Bushmills Distillery at Bushmills Distillery Information on Planet Whiskies... So Bushmills is Planet Whiskies Distillery of the Month title for November 2023
Get Newsletter
Subscribe to our newsletter to get latest news, popular news and exclusive updates.