Ballantine's And Globally Renowned Artist Insa Collaborate To Bridge Online And Off Line Worlds With A Unique Animated Gif Created On 12 Limited Edition Bottles :: 24th March, 2015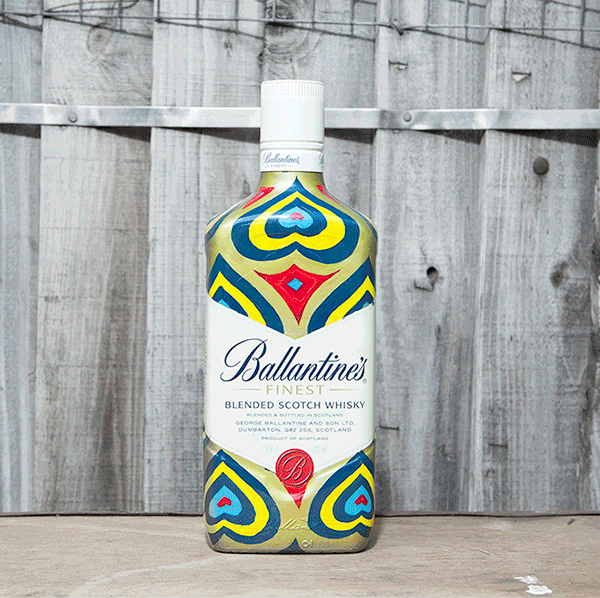 The collection will be exclusively displayed at one of East London's most exciting new bars, Original Sin
Ballantine's Finest today launches a collection of 12 limited edition bottles, which have been hand painted by the world's leading 'GIF-ITI' and fine artist INSA, and transformed into a vibrant animated piece in the artist's trademark style. The limited edition bottles will be exhibited at East London's Original Sin bar and both Ballantine's and INSA fans around the world will get the chance to own one for themselves via social media.
The innovative partnership is part of Ballantine's ongoing drive for innovation, collaboration with creative talent and new ways to present the brand in the digital space. It follows on from 'Ballantine's Presents INSA's Space GIF-ITI', an online film which charted the creation of the world's largest animated GIF captured from space in Rio de Janeiro, that has been viewed over five million times to date. The film formed part of an ongoing series of collaborations between Ballantine's and unique global talent who define Ballantine's mantra of 'Stay True', featuring projects inspired by their personal talents and beliefs.
The limited edition bottle collection has once again provided INSA an opportunity to 'Stay True' to his passion for experimentation and innovation, demonstrating a desire to go beyond the constraints of creating a limited edition bottle for the off line world to produce something in his trademark style.
To create the animated work, INSA first took twelve of Ballantine's iconic bottles into his London studio and hand painted them with his trademark 'Looking for Love' inverted heart motif. Each of the 12 bottles is totally unique, with the design evolving gradually across them.  Once complete, each one was photographed and then stitched together creating the intricate animated "whisky GIF".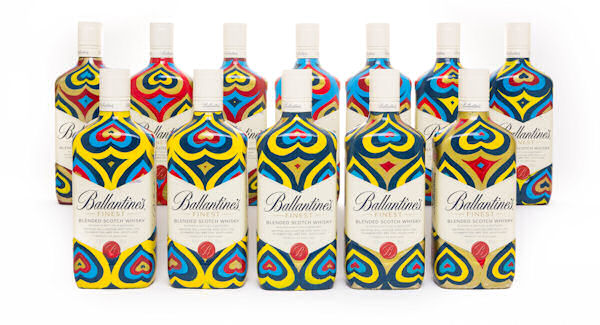 INSA comments: "Rather than just produce another limited edition bottle, I wanted to try out a new idea and take my GIF work to a three dimensional item, and animate across its surface. The Ballantine's rectangular bottle was a great shape to work with. Creating the Space GIF-iti film with Ballantine's was such a monumental achievement and it was exciting to extend our collaboration."
As hand painted and limited edition works of art, the bottles will not be made available for sale.  Instead, visitors to London's Original Sin bar will be able to view the collection from March 25th to April 3rd and have the chance to win one via their Twitter and Instagram channels using the handle @originalsinbar.
Original Sin is the new offering from the team behind the world-renowned Happiness Forgets cocktail bar and since opening earlier this year has proved just as popular. Situated in Stoke Newington, East London, it caters both to the area's creative residents as a local spot and as a destination bar for visitors from further afield.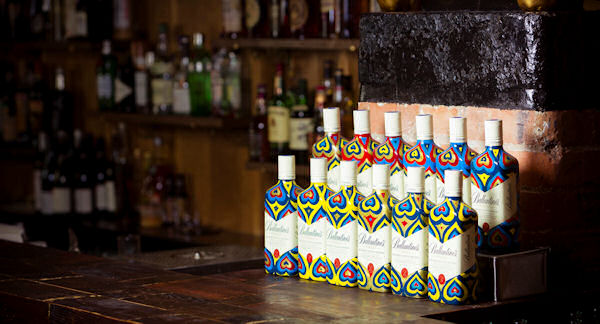 Peter Moore, Global Brand Director for Ballantine's added: "Innovation and artistic collaboration both off and online are at the heart of the Ballantine's brand today, which this collaboration with INSA captures perfectly. We wanted to create a memorable limited edition range with INSA, so we're thrilled with the result of the twelve totally unique and hand crafted pieces – which we'll give consumers the chance to own themselves."
<< Back to all the latest whisky news brought to you by Planet Whiskies
Distillery of the Month: November 2023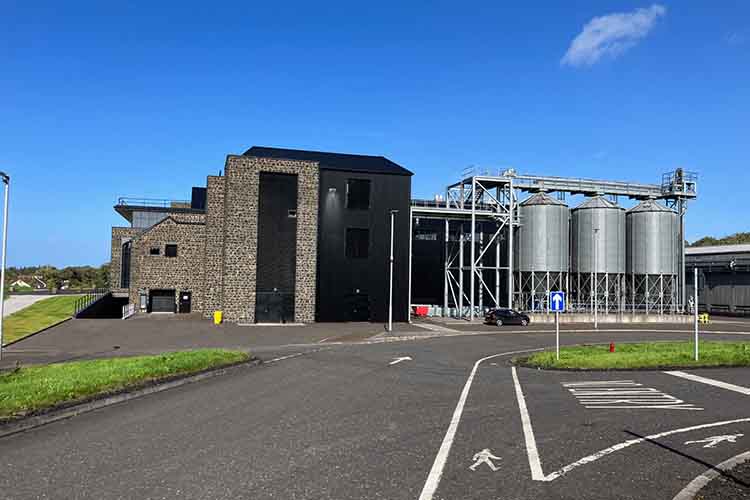 Planet Whiskies visited the new Bushmills Distillery in Northern Ireland on the 25th and 26th of September. Read our review of the experience of Bushmills and Northern Ireland at Planet Whiskies tour of Bushmills and Northern Ireland
You can also read the whole section about Bushmills Distillery at Bushmills Distillery Information on Planet Whiskies... So Bushmills is Planet Whiskies Distillery of the Month title for November 2023
Get Newsletter
Subscribe to our newsletter to get latest news, popular news and exclusive updates.