Planet Whiskies is supporting Homecoming Scotland.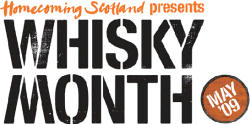 On this page is a press release regarding Homecomeing Scotland and an event all whisky drinkers will be interested in. A month long celebration of Scotland's most famous drink, Scotch Whisky in May 2009. This press release has been inserted onto this page without any changes and is full of interesting information relating to May 2009 and all the events that are taking place. Enjoy reading this page and any comments please email Planet Whiskies. All the best comments will be publishing on this website.
Scotland's month long festival with whisky at its heart
In a first for Scotland, a unique month long celebration of Scotland's famous national drink, Scotch Whisky, will take place this May as a highlight of the Homecoming Scotland 2009 programme. It is anticipated that the key events featured will attract in the region of 30,000 additional attendees with participating distilleries also expected to see a rise in visitor numbers, bringing a boost to businesses across Scotland.
The diverse range of unmissable whisky events and experiences across Scotland is presented as part of Scotland's year long Homecoming celebrations. Known and loved at home and around the world, Scotch Whisky is a crucial part of Scotland's tourism sector, with ScotlandWhisky - the national whisky tourism initiative - assessing that over £20 million is spent at whisky visitor attractions across Scotland.
Launched in London today, the full Whisky Month guide invites visitors from the UK and around the world to explore Scotland's landscape and culture through its famous national drink in a month long programme of more than 30 events which includes the newly extended Spirit of Speyside Whisky Festival, the brand new Spirit of the West festival, a specially commissioned musical production of Whisky Galore, Feis Ile – Islay's Malt and Music Festival and unique activity across Scotland's distilleries.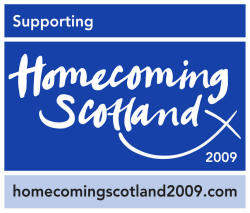 First Minister Alex Salmond said: "Whisky is an ambassador for the quality and distinction of Scotland's produce and Whisky Month presents a fantastic opportunity for us to celebrate Scotland's famous national drink. With its wealth of distilleries and its scenic majesty I hope that thousands of visitors will join us for a dram this year and enjoy the spirit of Scotland in our year of Homecoming 2009."
Throughout Whisky Month some of Scotland's most popular and exclusive distilleries open their doors to visitors inviting them to discover the unique characteristics of the whisky regions of Scotland: the Highlands, Speyside, Lowlands, Islay and Campbeltown; with behind-the-scenes experiences and distillery tours.
In Speyside the celebrations begin at the Spirit of Speyside Whisky Festival on the 1st May. Celebrating its 10th anniversary during Homecoming, the festival has doubled in size for 2009 extending its programme over 10 days and offering specialist whisky tours, tastings and gourmet food events at distilleries. For families, activities combine whisky and leisure to create a variety of entertainment, scenic walks, golf, sport and exclusive retail opportunities. The festival finale on Saturday 9th May 'The Spirit of Speyside' embraces the music, dance and song of the region in a spectacular event on the idyllic banks of the River Spey, at Aberlour. Headlined by renowned Scottish band, Capercaille, the entertainment will come to a dramatic close with a stunning display of fireworks.
Learn more about whisky and head across to the University of Aberdeen's Word Festival 2009 for Maclean's Malt Whisky Tour of Scotland. Charles MacLean will talk about his new book MacLean's Malt Whisky Handbook and explore the flavour and character of Scotch malt whisky. In Aberdeenshire, take the opportunity to enter Ardmore Distillery - rarely open to the public - where you can experience a bespoke tour and whisky tasting session.
Head up to the Highlands and visit Dewars World of Whisky, where Homecoming is celebrated with "Dewar's Signature Tour" a chance to taste some of the world's finest and rarest whiskies from Dewar's premium portfolio and a warehouse tasting of Aberfeldy Single Malt.
Incorporate whisky tasting with a weekend break. Book a Glenmorangie Whisky Weekend for fine Scottish hospitality while visiting the home of Glenmorangie in Tain, or head to Skye's Iconic Dunvegan Castle for an unforgettable evening with Talisker Distillery.
Heading further north to Orkney, Scotland's most northerly distillery, Highland Park flings open its doors for a free, exclusive Open Weekend on the 23rd and 24th May.
Celebrating the spirits of the Highlands, Islay and Campbeltown on the 16th – 17th May is Spirit of the West, a brand new festival which takes place in the stunning grounds of Inveraray Castle. Whisky tasting, food sampling and cookery demonstrations will run alongside historical trails, fashion shows, music, arts and crafts and golfing activities with a lively ceilidh giving you a chance to enjoy a few drams.
Continuing the Islay celebration, take part in the legendary Feis Ile - Islay Malt & Music Festival from the 23rd- 31st May which features a week long programme of events at Islays Distilleries.
In the Lowlands of Scotland there are plenty of opportunities to sample a dram and get a flavour of Whisky Month. Visit Auchentoshan's newly refurbished Visitors Centre near Glasgow and make sure you stop at Edinburgh's Scotch Whisky Experience for 'Enthusiasm for Scotch' and The Diageo Claive Vidiz Scotch Whisky Collection - the world's largest collection of whiskies - a 'must see' for Whisky fans and novices alike.
And the celebration of this famous tipple doesn't stop there! For a full range of the whisky events taking place across Scotland throughout 2009 and for information of whisky packages, trails and itineraries go to:
Sorry Website now not available for VisitScotland Homecoming 2009
Gavin Hewitt, Chief Executive of The Scotch Whisky Association, said:
"Whisky Month in May is the perfect time to visit Scotland, the home of whisky. An exciting programme of distillery and festival events awaits our visitors. They will experience the very best that Scotch Whisky has to offer and learn why this global icon embodies the spirit of Scotland."
Marie Christie Homecoming Scotland 2009 Project Director said: "Scotch Whisky is a unique aspect of Scotland's rich culture and heritage which is celebrated across the world. Showcasing it through the Homecoming festivities provides us an opportunity to promote some of the country's most distinctive communities and regions through a lively programme of activity."