Whisky in the Lowlands of Scotland
The region of Scotland called Lowlands is from Glasgow and Edinburgh downwards except of course the Campbeltown region. This area used to be a distillery gold mine, but over the years the number of operating distilleries have decrease in number. Again for more information regarding working distilleries visit the web pages on this site where you can read about their history, location and any contact details available.
One of the factors about the whisky that is produced in the Scottish Lowlands is that the whisky that is made end up being used in blends. The fews malts that are made are light in colour and do have a dry finish. Most of the malts are unpeated and have a fruity flavour. You could also say that these malts are mellower than their cousins in the Highlands and therefore are more of a favourite for newcoming to whisky.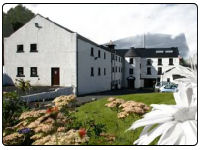 One of the most famous distillery in this region is Auchentoshan Single Malt Scotch Whisky Distillery. This distillery has a excellent tour and would recommend this for all. Their website holds lots of excellent information regarding this distillery and you will find it at www.auchentoshan.co.uk.
This was just one distillery of many that are situated within the Lowland region of Scotland. Others that I could mention would be the Port Dundas Scotch Whisky Distillery which overlooks the whole of Glasgow and Deanston Scotch Whisky Distillery in Doune Perthshire.